One of the most fun holidays of the year is right around the corner, and what better theme to give to an adorable baby shower than St. Patrick's Day itself. Candles & Favors did just this and the event for the soon-to-be baby was full of bright hues of green, images of tiny leprechauns, and of course, lots of shamrocks.
Tinsel garland in sparkling green and gold lined the tables while a poster with the image of a baby leprechaun and two big, emerald puffs were hung up on the wall as a fantastic backdrop to the main event table. This table was full of yummy treats to celebrate the new bundle of joy, including savory sweets and delightful beverages.
In place of a baby shower cake was a big green pot of individually foil wrapped chocolate pieces of gold set high atop a corresponding green stand. In front of the pot of delicious candy was a classic green felt fedora with a gold band reading "St. Patrick's Baby" around the rim.
Individually packaged shamrock sugar cookies lay out around the table, while elaborately frosted cupcakes in leprechaun wrappers were served on a beautiful Irish plate. Sodas were offered in crafty green old bottles with theme party labels and jade milkshakes were set up in classic milk bottles with green and white striped straws. Generous sized cups filled with sweet green pudding and topping of whipped cream sat atop white platters, giving the guests a filling and delectable dessert. Of course, the guests did not go home empty-handed, as St. Patrick's Day themed favor boxes were filled with green and white puffy leis, and with a personalized message on the front welcoming the newborn reading, "Siobhan's Baby Shower." This baby shower was full of fun and plenty of old fashioned luck for the little shamrock on the way.
Credits – Candy & Favors | Shamrocks Labels, Boxes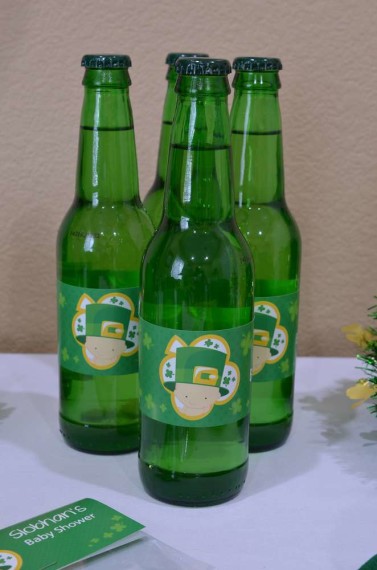 MORE INSPIRATIONS: