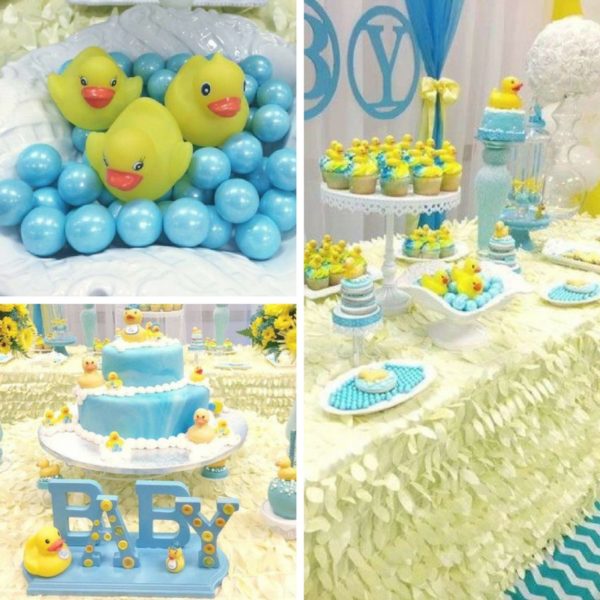 Nothing can compare to a genuine classic and when it comes to showers a Rubber Duckie Baby Shower is a prime example of a truly loved style of celebration.  With this sweet gathering, My Little Angel Decorations turned an adorable baby toy into a soft and elegant theme that was sure to leave a lasting impression.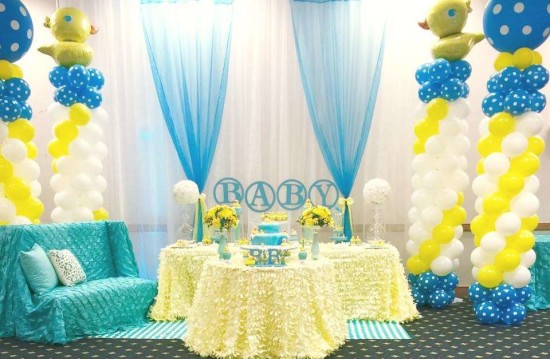 The display designed for the snacking area was a stunner, decorated from ceiling to floor in a lavish display of wonder.  Sheer fabric made a soft and elegant backdrop, with two blue sheers adding an extra layer and color. Those were tied off with lovely yellow bows, giving a sweet effect.  To each side of this fantastic backdrop, massive towers of balloons stood tall, topped with large rubber ducky mylers, so there would be no doubt to the theme of this wonderful event. The balloons were even wrapped in a pattern, giving a column-like look.
For holding the edibles, instead of a standard single buffet table, three round tables were used to showcase all of the delicious food for the party. Each was covered in a gorgeous yellow cover with texture that actually looked a little duck-like.  A chair was set off to the side with a teal color that went very nicely with the other colors.
These tables were immaculately prepared with a perfect blend of decor and delicious snacking, making it a fantastic centerpoint to the venue.  With baby spelled out in large wooden letters front and center, the only thing that could have made it more wonderful would have been to put some yellow buttons on the letters and a couple rubber duckies to add a flare of fun, and My Little Angel Decorations  did just that!
The cake for this party was massive, a two tiered bit of joy on a great silver tray.  Frosted in marbled blue and white and then detailed with white balls and rubber duckies, it looked like a tasty bathtub!!!!
Credits - My Little Angel Decorations
More Inspirations: