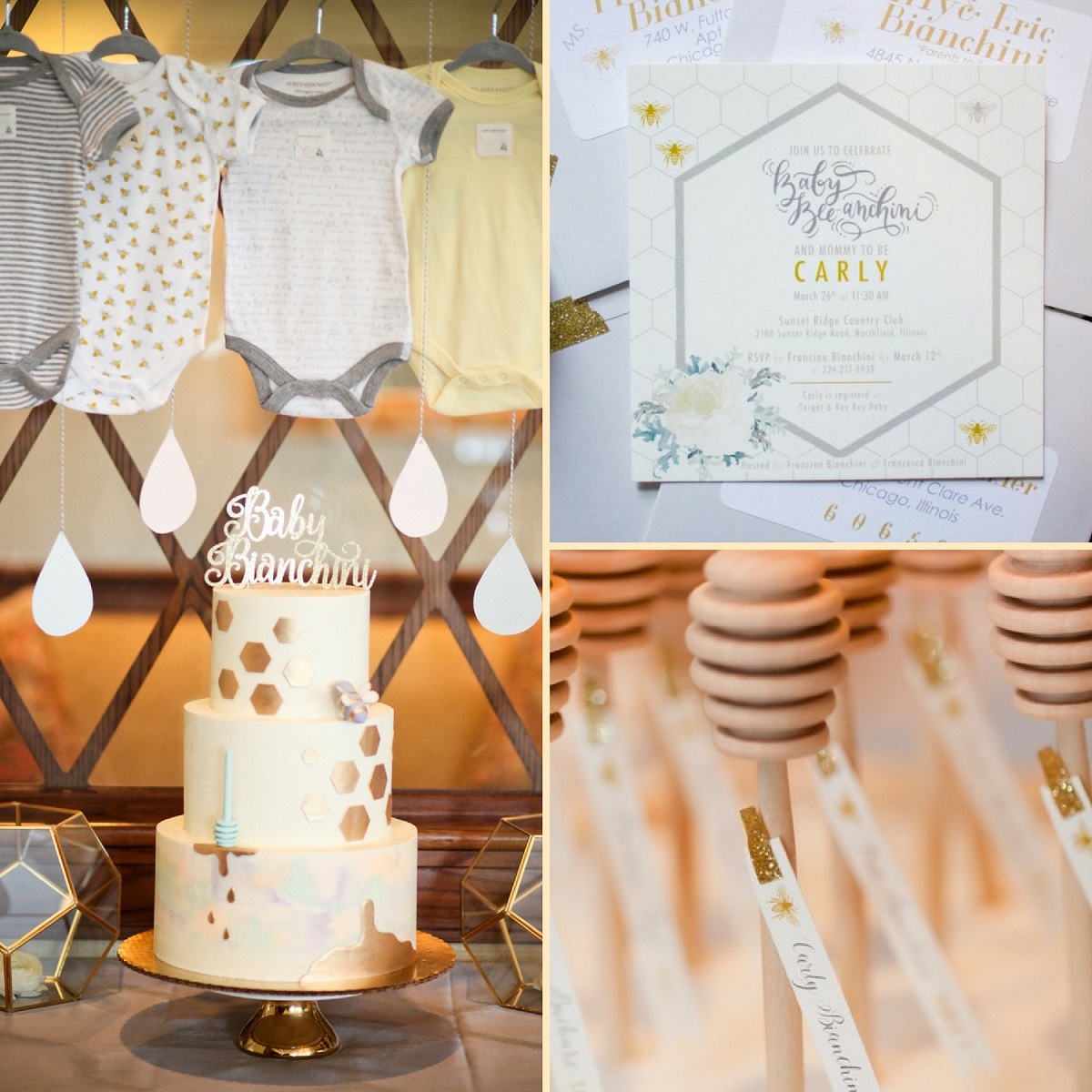 This Stylish Sweet As Can Bee Shower was a fantastically decorated event thanks in part to the creative genius of West Bloom Paper Co. who put together all of the lovely graphics including the invitations.
From the get-go this adorably themed baby shower had a modern and fun vibe with invitations that were designed in multiple fonts and gray, yellow and white colors.
As the guests entered the vibrantly bright venue, a massive sign greeted them in bee-like fashion.  It had drawing at the bottome of a sweet jar of honey with little bees flying around, ensuring that the theme was well displayed. The sign was set on an elegant stand to make it easy to view.
The guest tables at this party were gorgeously designed with white covers that made a perfect setting to display the lovely dinnerware.  Each table had a mini honeycomb with a sign advertising the number so everyone could find their seat easily.  At the center of the tables mirrors were used as a stage for lovely miniature flower bouquets that added a soft touch of color to the decor. The chairs were a dark color, giving the tables a bit of a contrast that stood out nicely.
Some of the tasty treats offered at this party included frosted sugar cookies that had various designs from honeycombs to bees. Delightful little cakes had powdered sugar on them and little honeycombs sticking out to make them easy to grab. The cake was three layers of sweetness with a modern honeycomb design. The topper was in silver which blended with the theme tones nicely. This cake was set in front of an adorable backdrop of baby onesies and rain drops.
For a guest gift yummy jars of honey waited to be taken home. They had customized labels and were tied with adorable striped string.
Credits:
Paper decor – West Bloom Paper Co.
Event Styling: Life Made Pretty
Photography: You Me Photography 
MORE INSPIRATIONS: