Using a Library for a venue can make the perfect space to have a fantastic baby shower.  Brianna of Growing Baby Gilbert, turned the area into a reader's dream celebration site, making it a unique Xavier Catholic School Library Baby Shower. The gorgeous event were captured by Lulliloo Photography.
She took paper that was printed like book pages, and turned them into a flag banner that displayed baby-to-be's name in a fun way, and then hung it across a gorgeous vintage mirror. To add to the adorable look, a crib was placed below the mirror and large, colorful tissue poms were draped overhead for a full effect.
A sweet decoration used for this party was a vintage, beat-up frame that surrounded an array of family photos, as well as cutsey little poms and a mini-flag banner that added a sweet touch. Set in front of the frame was a pile of books with a vase full of gorgeous springy flowers in a mason jar.
An advice station was set up for all of the guests to give words of wisdom, bringing a gift that can last forever for the parents.
The guest tables were set up in a sophisticated manner, each was round and covered in a white cloth, and a soft yellow also. The centerpieces for each was a pile of books topped with a vibrant floral arrangement for the guests to enjoy.
Food was arranged buffet style in a long rectangle, making it a breeze for everyone to reach what they were looking for. The variety of items was wonderful, each added a fun touch of color that really made the table stand out.
The cake made for the celebration was elegant and lovely, covered in detailed white frosting that exuded deliciousness. Topped with a cute flag banner, this cake embraced the theme beautifully, ensuring that it was a treat to remember.
Credits –
Venue: Xavier College Prep Library
Catering: Personal Touch Catering
Cake: Albertson's Bakery
Cake Topper & Decor & Invites: Brianna
Photography: Lullilloo Photography
Flowers: from Fresh n Easy, arranged by Brianna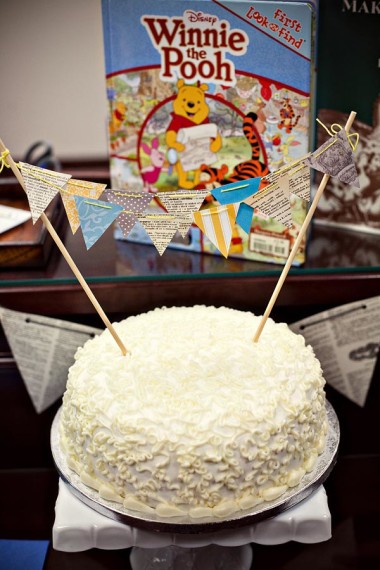 MORE INSPIRATIONS: