With this unique Vintage French Circus baby shower theme, Sophie Parrot and Ashley O'Bryan from The Marvelous Vintage Tea Party Co., brought sophistication and elegance to a party that would not be forgotten.
The venue area had a soft coloring that really emphasized a relaxed and cozy environment, keeping guests and mom-to-be happy and comfortable. Even the lighting assisted with the mood adding a soft undertone that left the room nicely illuminated without it being too bright.
An array of fantastic pastel flag banners were displayed across the ceiling, filling the room with a bit of fun.
The party room had a lovely fireplace that was used to showcase all kinds of adorable decor.  A chalkboard drawing, of "Oh Baby!" was displayed front and center, giving a shout-out to the reason for the gathering. With a pleasant line-up of gorgeous eclectic candles the sign was well-shown.  On each side of the mantle stood an arrangement of colorful flowers that were each unique and lovely, adding to the fullness of the decor.
Each decoration added to the venue was creative and fun.  A vintage highchair complete with wheels was set up with a fantastic stuffed bear.  A wonderful classic divider was placed in a corner with a vintage metal mannequin that was decorated in brilliantly colored flowers. Directly in front was a gorgeous board that welcomed all of the invitees.
The food arrangement was perfection in the bold colors and easily accessible set-up.  Varying heights were used, allowing each snack to be displayed as a delicious option individually.
Each place setting for the guest was elegantly put-together, soft florals centered the tables on perfectly placed books, and classic tea sets were given, letting each guest feel special with their own fragile beauty.
There was no detail left undone with this fantastic party, ensuring that mom-to-be would get the event of a lifetime.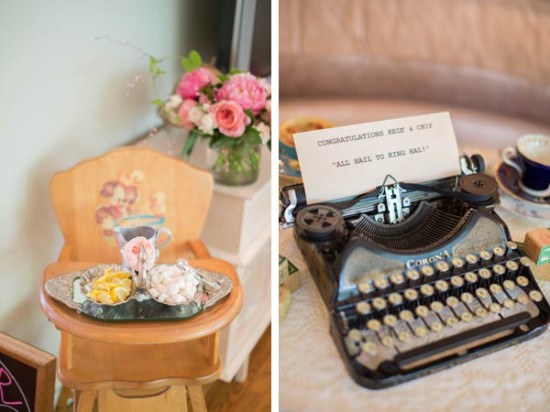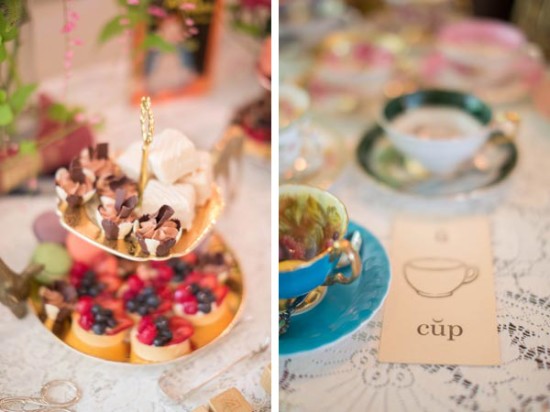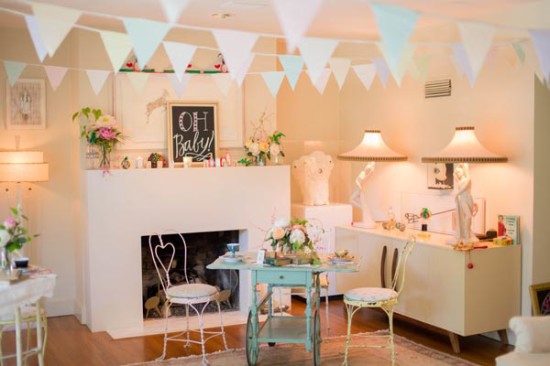 MORE INSPIRATIONS: