A minty fresh themed baby shower is sure to fill your home with modern colors and provide a fresh, clean atomosphere for your guests. While mint green is sure to be the main color used to decorate, you  might also opt for a combination of colors from the pastel color palette. There are many decorations availible and the possibilties for decorating for this theme are endless! Below are a few ideas to get you started!
Mint Green Straws
These straws are sure to add an extra special touch to your party. The straws are made from mint green, champagne, and gold paper. The straws are sold in sets of twenty-five and can be ordered in custom colors if desired. The paper used to make the straws is recycled, so you are even helping out the environment. Each straw measures approximately eight inches long.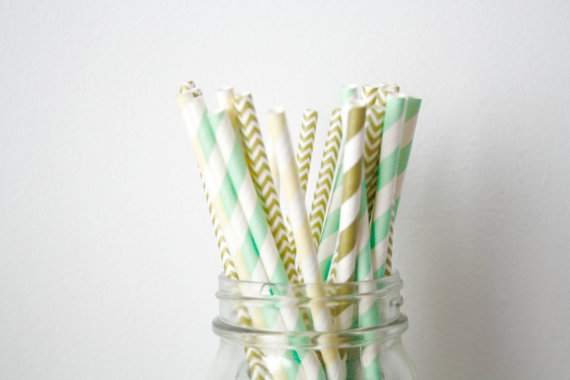 Mint Tassel Garland
With hints of mint among a soft color palette, this garland will make the perfect addition to your party! The garland is handmade from tissue paper and measures approximately eight feet long. The tassels are spread out evenly along the string. Each garland comes with fifteen tassels, which can be can be easily moved depending on your taste. Each tassel measure approximately eight inches long. This garland would look lovely strung around a table, as part of display, or as a photo back drop.
Cupcake Toppers
If you are planning to serve cupcakes at your party, turn your cupcakes from ordinary to extraordinary with these mint and gold cupcake toppers. The toppers are sold in sets of twelve and measure approximately 5.5 inches tall including the wooden stick. The hearts are single sided and come in an equal mix of mint green and shimmery gold. The colors of the hearts can be customized to match the colors of your party if desired. In addition, you can even order a matching banner and/or confetti!
Pom Poms and Lanterns
This paper decoration set is sure to help you create the perfect atmosphere for your party. The set includes a mix of twelve tissue paper poms poms and lanterns. The decorations are pink, mint, and gold and come in varying sizes. Each piece is lightweight, which makes for easy hanging. These decorations would look lovely displayed inside or outside, which makes them perfect for any season.
Hair Tie Party Favors
While mints might seem like a logical party favor for a minty fresh themed baby shower, if you are looking to be unique, these hair ties are sure to be the perfect party favor for your guests! Each favor includes one personalized message on a favor card and two hair ties. The hair ties will arrive ready to gift and are wrapped individually in clear cellophane envelopes. You have the option to order one to seventy-five favors, which makes it easy to find just the right number for your guests. The colors of the hair ties can be customized if desired.