Blue cheese sweet potato rounds are a delicious food for any occasion even for baby shower parties. As some of you may be aware, blue cheese is on the top list of foods to avoid while pregnant, but don't panic, rest assured! They are safe for mommy to-be as long as they are cooked thoroughly like this recipe.  This makes perfect baby shower food.
These can be solved hot or cold, on platters or toothpicks, and can be made a day in advance of the occasion they're for. What's more they're impressive with complex flavors but incredibly easy to make.
Sweet potatoes are a great and tasty alternative to regular potatoes with the added benefit of being lower in carbohydrates. Their sweet flavor pairs greatly with salty blue cheese and cheddar. The crunchy walnuts and fresh spring onions offset their soft texture.
The cheeses on these potatoes can be changed to suit your tastes and access to different cheeses.  If you don't like blue cheese, another great combination is swapping out the blue cheese for a soft cheese such as brie or camembert and changing the walnuts for dried cranberries (great for festive parties or get togethers).
Try serving on a bed of rocket  or watercress, with crème fraice to dip.
Ingredients: 
2 large sweet potatoes
2 tbsp olive oil
Salt and pepper to taste
50-75g (1/2 cup) cheddar cheese (grated)
50g blue cheese (1/3 cup) (crumbled)
10-12 walnuts (chopped)
2 x spring onions (finely chopped)
Method: Making Blue Cheese Sweet Potato Rounds
Pre heat the oven to 180C.
Wash and dry the sweet potatoes.
Cut the sweet potatoes into ¾ inch thick rounds.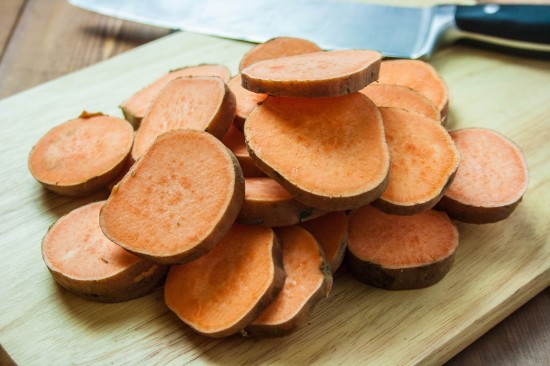 Place in a single layer on baking trays
Brush with the olive oil on both sides and sprinkle with salt and pepper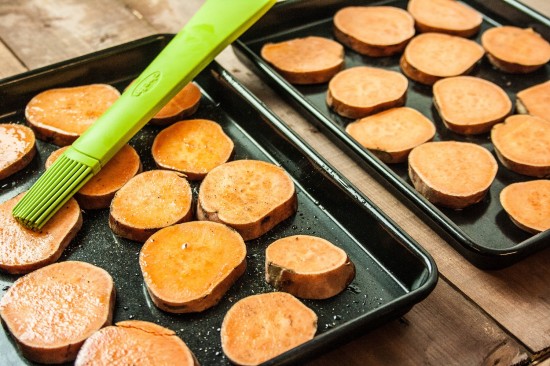 Bake for 20 minutes until beginning to brown in spots, turning half way through
Once cooked sprinkle with both cheeses and return to the oven for 5 minutes, until melted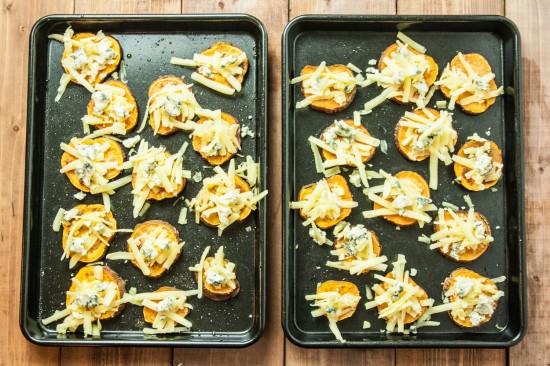 Top with walnuts and spring onions
Serve hot or cold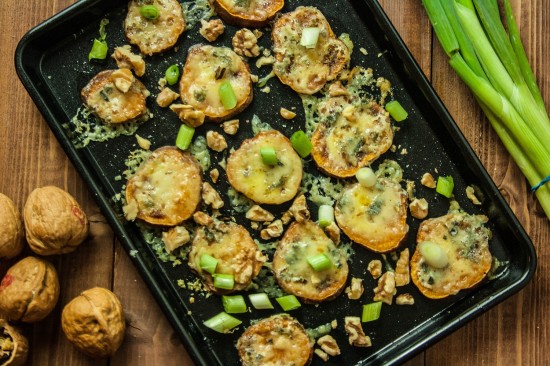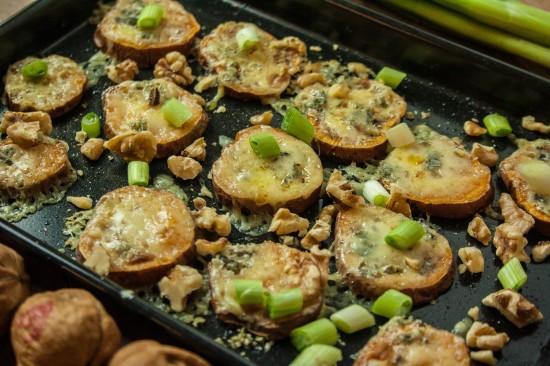 MORE INSPIRATIONS: