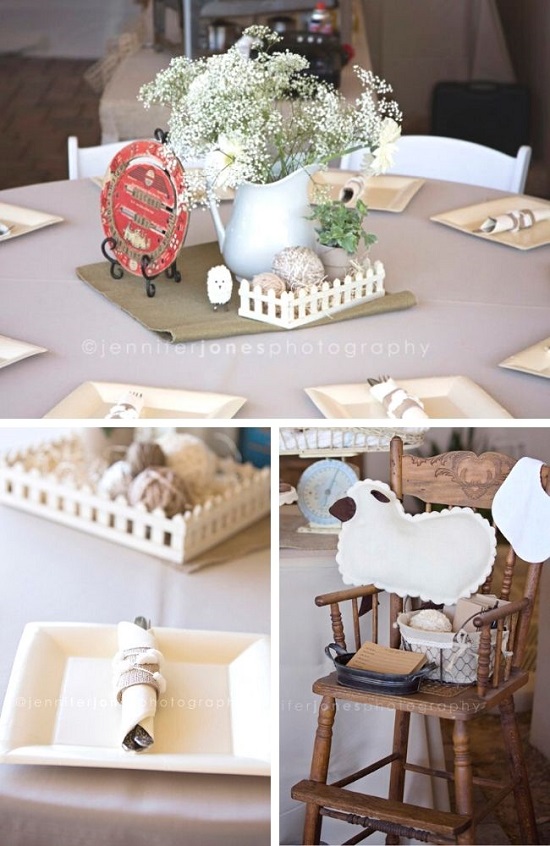 This Vintage Lamb Baby Shower was impressively designed, planned and photographed by Jennifer Jones Photography by a very special grandma-to-be. With this event being so close to her heart, every detail was perfectly executed with an abundance of love.
The event was set up to be a gender-neutral celebration, so the theme tones were a lovely blend of browns and white with a splash of pastel pink and blue incorporated throughout.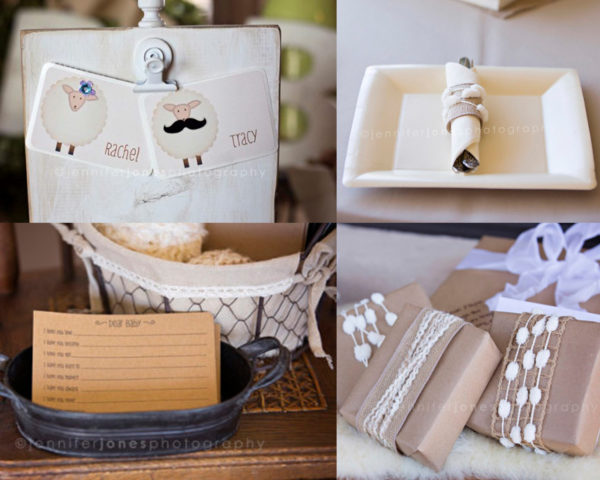 For the invitations, a touch of whimsy went a long way with an adorable little lamb in vintage tones. A fun font drew attention and the envelopes were even labeled with a wrap return address to make it easy for guests to RSVP.
A large chalkboard welcome sign invited the guests to come on in to the home where the party was at and to add to this lovely bit of decor, a cute framed double photo of a sweet little baby was set on a glass table for everyone to check out. 
The dessert table was absolutely stunning with a tan cover and burlap runner to set the stage. A fun flag banner was hung across the front of the table saying, "Baby." Beside the table, a fantastic vintage high chair held a range of decorations from a lamp to a bib. Rather than a traditional backdrop, hung right behind and above the table were all sorts of cute baby items like onesies and even teddy bears.  Giant tissue poms added to the decor beautifully as well. 
For treats, delightful frosted sugar cookies were individually wrapped with little labels on them and there were lots of other tasty desserts to try out too. A large, two-layer cake stood in the center with tan and white frosting and topped with a sweet little lamb.  This cake even stood on a soft, blue tray to draw the eye.