There's no better way to celebrate a new little life coming into this world than with a themed baby shower. With options for an array of decorations, bright color schemes, and a magical atmosphere, an under the sea baby shower motif is nothing short of majestic and full of joy. Beneath the ocean is a whole other world of fantastic creatures and fantasy, so bringing this realm to your celebration is unforgettable. Get your bubbles and starfish hairpins ready because this baby shower will truly be one to remember.
Under the Sea Invitations
Under the Sea Decorations
Once your baby shower invitations are out, now you can have a good time putting your under the sea themed baby shower together! Drape party tables in aqua marine colored tablecloths and bubble-designed runners. Try your hand at DIY bouquets of seashell centerpieces gathered in sea glass jars.
You can hang up seaweed garland and fish netting over the walls with little fishy accents. A bubble machine adds an extra dose of themed-fun if you can swing it, while tons of white and blue balloons give the illusion of being under the pearlescent sea. Hang silver and teal streamers vertically flowing from doorways and make sure to have sounds of ocean music playing.
Post up banners with welcoming words to the new bundle of joy, and if your shower is gender specific, incorporate soft pink decorations for a girl and baby blue for a boy. Other great imagery, cutouts, and standups to include in your under the sea theme décor are pop culture references such as The Little Mermaid, Spongebob Squarepants, and Finding Nemo.
Under the Sea Theme Setting
Under the Sea Food
When deciding on a baby shower cake, reach for your creativity. What about an elaborate cake in the shape of a starfish or a tiered cake with fondant figures of a mermaid mommy and her little baby mermaid? Simple cakes in white to turquoise ombre icing are just as sweet, too.
Cupcakes with frosting in the same ombre hue are precious with sparkly baby starfish toppers, while sugar cookies in the detailed form of singing mermaids and happy fish are a fun addition. You can also add Sugar sand as a finishing.
Sea creature gummies in tall glass apothecary jars are a magnificent way to tie the theme table together, and you can use Swedish Fish, gummy sharks, octopi, and squids! Saltwater taffy in an assortment of colors on distressed silver trays and miniature round fishbowls with twisty straws to serve as drinkware for bright blue punch blend splendidly with bowls of goldfish snack crackers and sea salt pretzel bites. Of course, cake pops in the form of baby fish and ivory macaroons are always a nice added touch.

Under the Sea Theme Favors
Baby Shower favors for your baby shower guests can be just as magical as the event itself. For a more elaborate set of gifts, you could give your guests baby fish in small fishbowls. Or, for less extravagant favors, individually wrapped cookies in the shape of clams with a sugar pearl accent, starfish bottle stoppers, mermaid coasters, or pieces of actual coral reef in gorgeous colors can be placed in a favor box in the shape of an old timey scuba diver's helmet.

Under the Sea Theme Games
Shower games like under the sea scrabble, mad libs, and even guessing games like "Guess that Under the Sea Creature" are all fabulous ideas that are low key and still interactive. You can even hand out seashell necklaces and shiny scale-like fashion scarves for the guests to wear during the shower and keep to take home with them.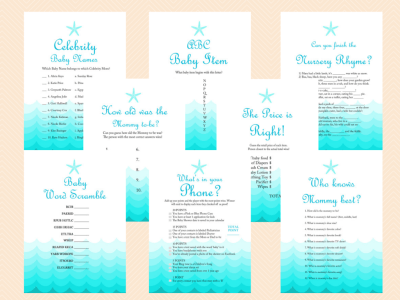 MORE INSPIRATIONS: