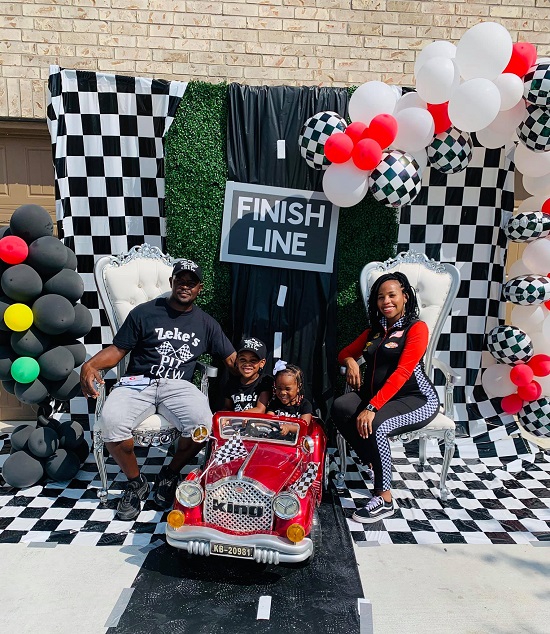 Whether the upcoming bundle of joy is a boy or girl, or the mom herself loves racing, this theme is exciting, colorful, and full of fun to surround guests with on this day!
Racing Baby Shower Decorations
Decorations for a racing baby shower can consist of a lot of different designs and colors, but one schematic you absolutely cannot do without is black and white checkered patterns. This is the universal sign of any type of racing and will be instantly recognized and loved by the party guests. Two giant racing flags in the checkered look with welcome messages in the entrance for guests to see when they arrive set the entire tone up for the event immediately. Likewise, you can do a similar looking backdrop congratulating the mother to be behind the main event table. You can even recreate this look in miniature form and have every piece of label or signage for the baby shower in racing flags.
Pin up giant cutouts of racing cars and famous drivers on the walls, and hang garlands of flashing car shaped lights. Have baby onesies strung up on clothesline to also serve as garland and have a different racing car on each. Place racing ball caps and sunglasses at each seat for guests to be able to wear during the party and take home with them to enjoy. Centerpieces on tables of red and white flowers in black vases look amazing on table runners that resemble an actual track, complete with dark asphalt and bright yellow line designs.
Racing Baby Shower Food
Don't spare any details with the cake, and create a masterpiece in the form of a replicated racing track! This can be done in spirit with a diaper cake as well, or even with the entire food table, by setting up different eats to blend with each detail of the racing track. Car shaped sugar cookies and cakepops with the numbers of the mother to be's favorite racers are delightful, while salty fares should include nuts, miniature burger sliders, and even a nacho bar. The entire feel of this baby shower should be fun along with laid back.
Racing Baby Shower Games & Favors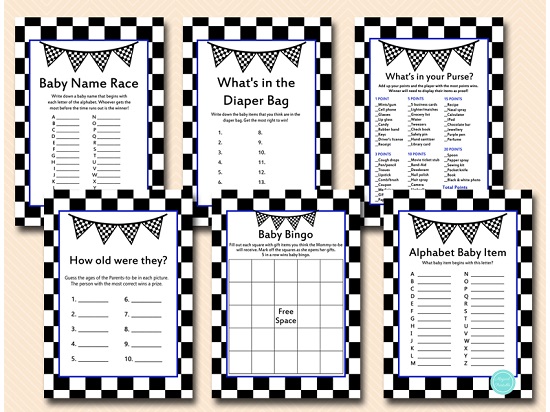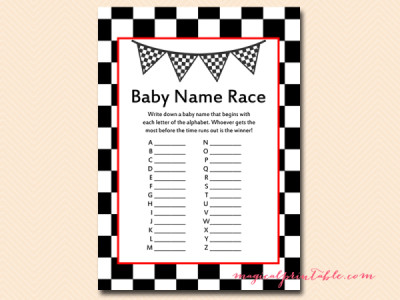 Activities for a racing baby shower can include guests playing competition racing video games or crafting little race cars that the mother to be gets to keep forever. As far as what the guests will keep forever, little keychains or goodie boxcar gift boxes full of gourmet treats and handwritten thank you notes are a sweet way to make sure that guests never forget what a fantastic time they had celebrating this new baby.