Learning the alphabet will be a huge milestone for your little one in learning how to read. Celebrate your new baby boy or girl with an alphabet themed baby shower. This baby shower theme will give you the opportunity to be creative with books, letters, and more! Below are a few ideas to get you started. 
Board Book Alphabet Garland
This alphabet garland will look perfect displayed on your wall, along a fence, or above a fireplace. The letters are made from a variety of baby board books, which makes it the perfect decoration for a baby shower and a wonderful keepsake. Maybe you will even read some of the books on the garland to your baby. The garland includes the entire English alaphabet and is punched with three yards of ribbon. There is enough ribbon on each end to make for easy hanging.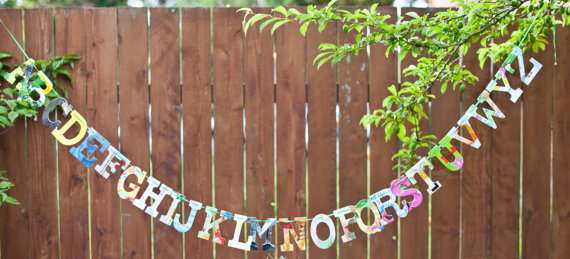 Custom Alphabet Blocks
These large alphabet blocks measure approximately 4.5 inches tall. Each block can include both pictures and letters. The colors, letters, and pictures of the blocks can all be customized, which makes the blocks the perfect decoration to celebrate a baby girl or boy. The blocks are decorated on all side and typically have two letters and four sides with designs. You have the option to order one to eight blocks, so you could display just the first letter of your baby's name or spell out your baby's name in it's entirety. If your baby's name has more than eight letters, you can request a custom order. These blocks would also make excellent decor for a nursery after the party.
ABC Block Die Cuts
These ABC blocks can be ordered in pink or blue depending on the gender of the baby being celebrated. The colors can also be customized to match the colors of your party. The die cuts are sold in sets of fifteen which allows endless possibilties to decorate. You could string the die cuts together to make a garland, spread them out on a table, or use as part of a display table. In addition, these die cut pieces could be used after the baby shower in a scrapbook. Each letter measures approximately 2 inches tall by 3.5 inches wide.
Baby ABC Block Cookies
These baby block cookies are sure to sastisy your guests' tastebuds and would make a nice party favor. The cookies are sold in sets of twelve and each cookie measures approximately four inches tall. The cookies are sour cream sugar cookies and are decorated with rolled buttercream glaze. You have the option to choose the accent colors of your party and the cookies will be colored accordingnly. In addition, you can request other decorations to be added as desired. Each cookie will arrive at your door in an individually heat sealed bag that is tied with a twist tie. The cookies will be ready for you to gift!