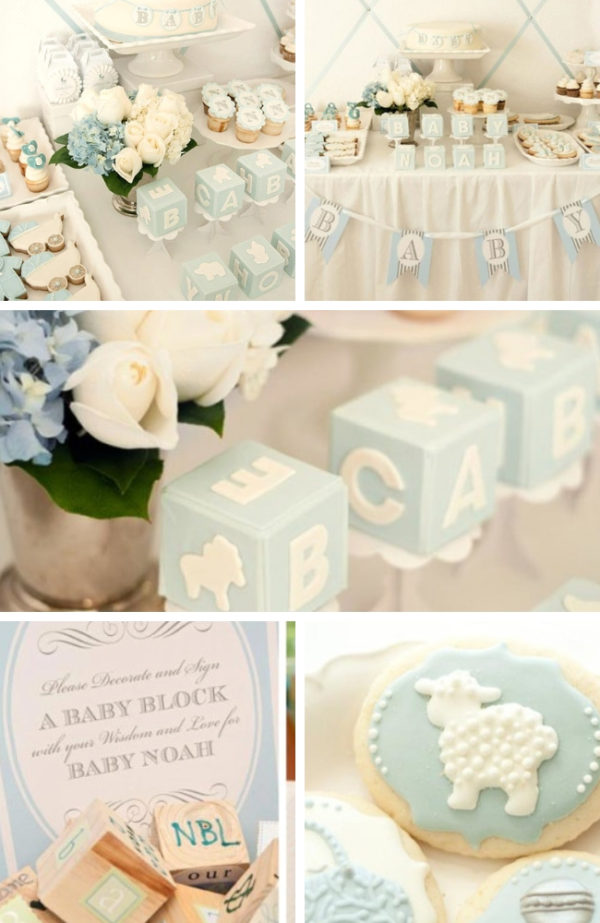 With an array of soft blue and white colors, and a wonderful arrangement of details, this Baby Blocks baby shower was sure to be a smashing success.  Co-designer Jenny of Crossing the Bugger-Dixon line, along with a whole team of fantastic artists, turned a cute idea into a breathtaking celebration of life that was sure to impress everyone who came to the party.
The dessert table was nothing short of perfection with each item incorporating into the theme in a tasteful and sophisticated manner. The backdrop to the table was an adorable board decorated with blue ribbon, giving a sweet effect that contributed to the entire look in a soft and elegant way.
Each of the dishes used to hold the treats matched beautifully, with a simple white color all of the foods were able to stand out beautifully, while maintaining a wonderful setting.  An bouquet of gorgeous flowers was placed near the center to draw attention with a variety of blue and white. The table itself was covered in a classically simple white cloth and had a giant banner draped across the front that spelled Baby in sweet flag letters. For a unique decoration, Baby Noah, was spelled out in little blue blocks and placed in the center of the table, adding to the theme beautifully.
The different snack options all went with the theme, while looking very tempting to taste. Trays of adorable sugar cookies were laid out in all kinds of shapes, some decorated with baby shoes, as sheep, rockers, carriages and more. Mini-cupcakes were made that had the cutest little bottles on top and there were even edible baby pacifier topped cupcakes.
The celebration cake encompassed the theme in a sweet way, a single layer of decadence covered in white and decorated with the theme's soft blue color. Topped with an adorable label, everyone knew exactly what they were trying out.
Credits-
Co-designer, stylist and host: Christy of Inspired Design
Co-designer, stylist and host: Jenny of Crossing the Bugger-Dixon Line
Photography: Liza Voll Photography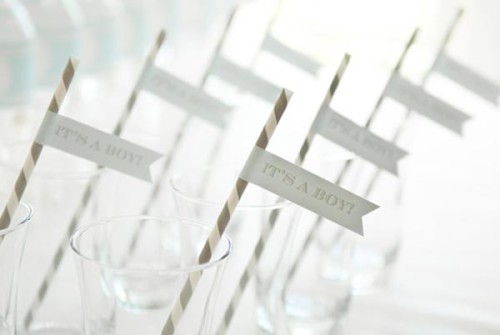 More baby shower ideas: