A Baby Sweet Love Shower theme was the perfect way to go for this lovely gender neutral celebration of life. Tali of A Party Studio was the mastermind behind this elegant gathering, styling an event to remember forever.
The backdrop to the treat table was very unique, a layering of soft colored, sheer clothes that added a textured and sophisticated flow to the theme. A large white, ornately detailed frame was placed in the center to create a sweet effect. An adorable baby flag banner was draped across the corner of the frame, drawing attention with a fantastic black and white striped pattern.
The table itself was draped in white, giving the elegant flow to the venue area. With a neat black and white damask pattern runner down the center, color was added in a bold fashion that didn't take away from the lovely arrangement on top of the table at all.
This party featured food that catered to mom-to-be's diet, offering every sweet treat in a gluten-free fashion. There were all sorts of edibles to try out like marshmallows, chocolate covered strawberries, and summer berries as well, each adding a sophisticated addition to the theme.  The mint chocolate chip cake pops looked good enough to melt in your mouth, and they were tied with bright red ribbons, adding a vibrant addition to the table.
The floral arrangements really added a lavish touch to the room.  Tall-stemmed red roses stood in the corner drawing the eye with their deep red color and adorable white roses were placed perfectly through the table to add elegance and beauty.
Even the cake was gluten-free, ensuring that mom-to-be could safely celebrate while maintaining her important diet needs. With a full spread of tasty cupcakes to finish off the table, this event had a bit of everything you could want to try at a sweet baby shower.
This is what Tali Said about the Baby Love Shower :
Mommy-to-be Becky didn't know if she is going to have a girl or a boy so I wanted her baby shower to be gender neutral. I also wanted her shower to be uber elegant for this very classy lady. So, I decided to go with a classic black and white color scheme and include touches of red for a pop of color. The theme of the shower is Baby Love and it features bold stripes, classic damask print and red hearts.
The dessert table featured gluten-free items, such as marshmallows, chocolate covered strawberries and fresh summer berries, because the mommy to be is on a gluten-free diet. Also, I was able to purchase a single gluten-free cupcake from Oh Snap! in Pensacola. Everyone was able to take home a personalized Hershey chocolate bar as a party favor.
Of course, no baby shower would be complete without fun games. First we played "Candy Bar Clues." Co-host, Sarah, created a board on which she attached various candy bars using velco. The board was placed at the front of the room so everyone could see the bars. She then read a list of clues to describe each stage of having a baby and the first guest to shout out the correct candy bar got to keep it.  We then played Baby Bingo. Whilst the mommy-to-be opened her gifts, each guest checked off her items on a bingo sheet.
VENDOR CREDITS:
Printables and styling: Tali at A Party Studio | ETSY SHOP
Photography: Danielle at All Things Great and Small Photography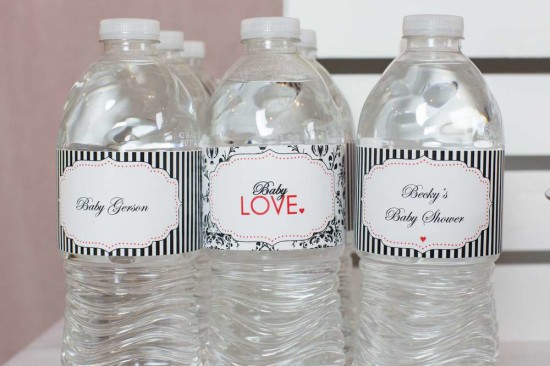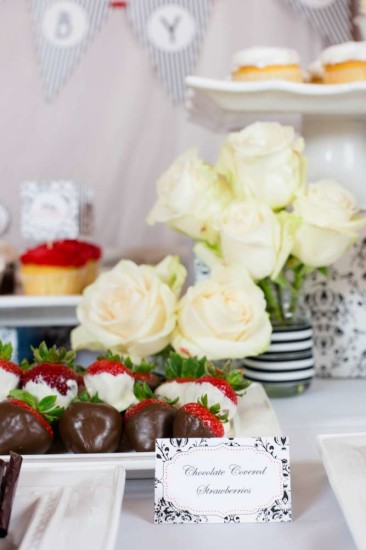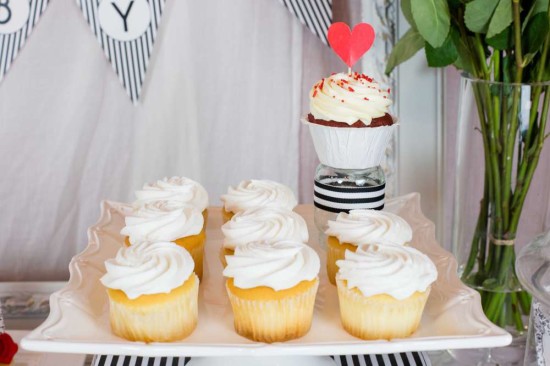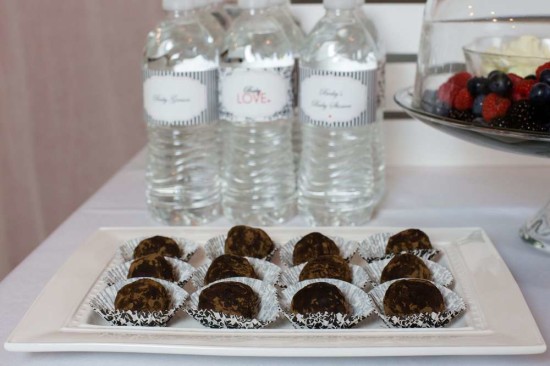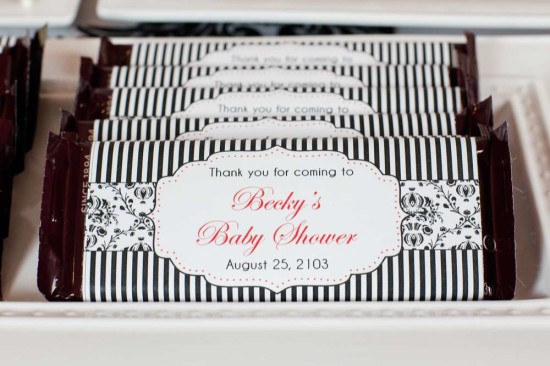 MORE INSPIRATIONS: