A camo baby shower is a fun and unique way to celebrate an upcoming little bundle of joy! Camo itself is so versatile, that you have tons of options when it comes to everything from decorations to food to games and entertainment!
Camo Baby Shower Invitation


Camo Baby Shower Decoration
Everybody loves a little bit of the camo pattern in their life, so you can really have a good time putting this baby shower together for your guests. Whether you opt for a classic camo look or a pink or blue camo style, get started with all the awesome decorations you can put up. Camo balloons, streamers, and flag garlands boasting the new baby's name are just the start of what you can do. Set up tables with camo tablecloths and centerpieces of metallic camo confetti and branches and wildlife flowers in mason jars. Baby onesies with camo accents strung up along main event table fronts or the walls are also great decoration ideas that can be keepsakes for the baby to be. Set up the main table with a snazzy camo overlay and runner, along with a big backdrop welcoming the new bundle of joy and congratulating the mother-to-be.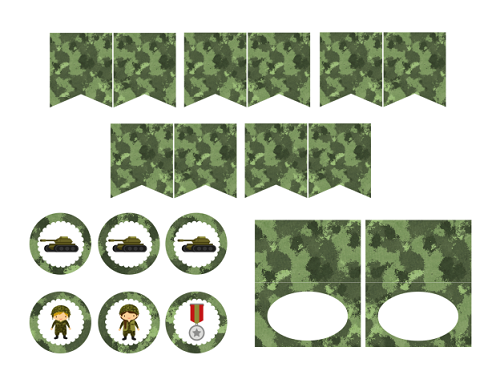 Camo Baby Shower printables is also a great way to complete the decoration! You'll be able to find items such as cupcake wrappers, banners, straw toppers and even mini favor boxes in camo pattern!
Camo Baby Shower Food
The food spread for a camo baby shower are as fun as ever, so let your creativity shine! The main cake can be multi layered in bright orange frosting and a camo color scheme in the cake once you cut it into slices as a surprise for the guests. Cupcakes with camo frosting and sugar cookies in the shapes of woodland leaves and cute baby deer are especially adorable, while candies in mason jars that are in all colors of camo like oranges, greens, and browns add an extra touch to the main event food table. Lemonade and tea are always perfect ideas for beverages that everyone loves and serving them in camo painted mason jars with matching straws and plates to eat on complete the camo look. It can also really fit in with the theme if you do a cookout for the main fares for your guests, such as hot dogs and hamburgers.
Camo Baby Shower Game
Baby shower games for a camo themed event will have guests engaged and smiling the entire time. Have guests create camo themed artwork on canvases or mason jars, or stick with more classic games such as Baby Bingo or even Pin the Tail on the Deer. There are tons of ways you can create fun icebreakers for your shower event while keeping in the camo theme and wowing all those who attend.
Camo Photo Booth Props
Camo Baby Shower Favors
Favor ideas for a camo baby shower can be a big range, as you can send guests home with gifts that they'll love and use for years to come. Personalized camo key chains, pens, and beauty kits are creative ideas that are both cute and functional, and really show a guest how much you appreciate them coming to the party. Don't forget timeless favors such as jars or bags filled with yummy gourmet candies and treats.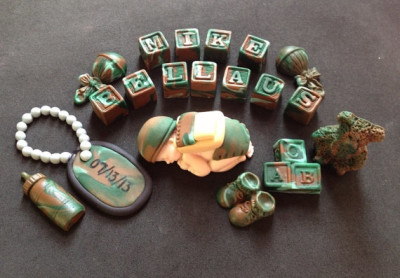 MORE INSPIRATIONS: