Are you tired of bringing the same egg dishes to parties and gatherings? Egg salad, deviled eggs, pickled eggs…it's been done! It's time for something new, fresh, and unique – and this recipe has got you covered.
These Egg Appetizers take the best elements of egg salad and take it to the next level. Fresh dill and cucumber make a refreshing combo, but yummy eggs and cheese leave you feeling satisfied and full for hours on end. Well, not too full; there's always room for one more bite of Egg Appetizers. Bonus: they're also Keto and low-carb friendly – they don't taste like it, though!
Try this recipe at your next party and give your guests a most egg-cellent experience!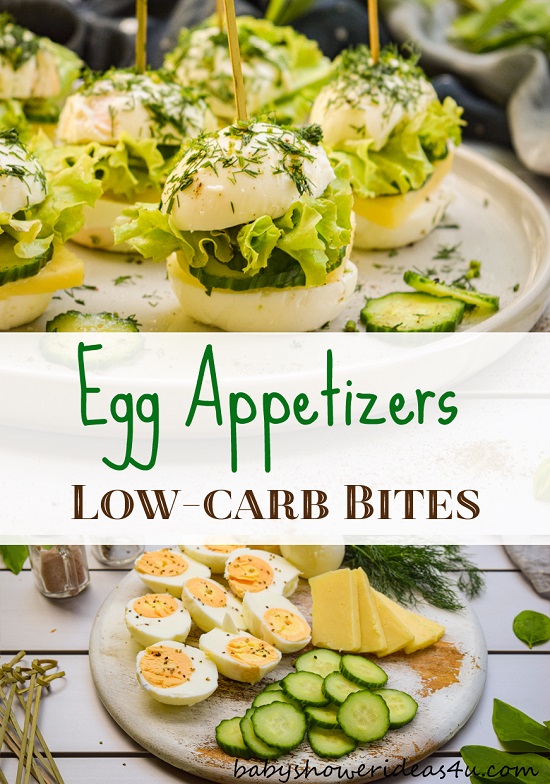 Ingredients:
6 Eggs
1 Tbsp mustard
½ Cucumber, sliced
6 Small slices cheddar
3 Lettuce leaves
1/3 Cup dill, chopped
Salt and black pepper to taste
Instructions:
Step 1.
Place the eggs in a small pot in a single layer. Cover with cold water. Turn heat to medium-high and bring water to boil, covered. Uncover and boil for 7 minutes. Meanwhile, place a good amount of ice in a large bowl and fill with water. When the timer goes off, immediately remove eggs from the water with a slotted spoon and transfer to the ice bath. Let them sit for several minutes in the water.
Step 2.
Peel the eggs and cut each in half. Take one half, turn it over and cut some of the white off so that when you turn it back over, it will stand nicely. This will be the bottom half. Make this with 6 of the halves. The remaining halves are for the top.
Step 3.
Sprinkle each sliced egg with salt and black pepper and spread some mustard over.
Step 4.
Top the bottom halves with a cheddar slice, two slices cucumber, a piece of lettuce and cover with the other egg half. Secure with a cocktail stick. Sprinkle dill and more black pepper.