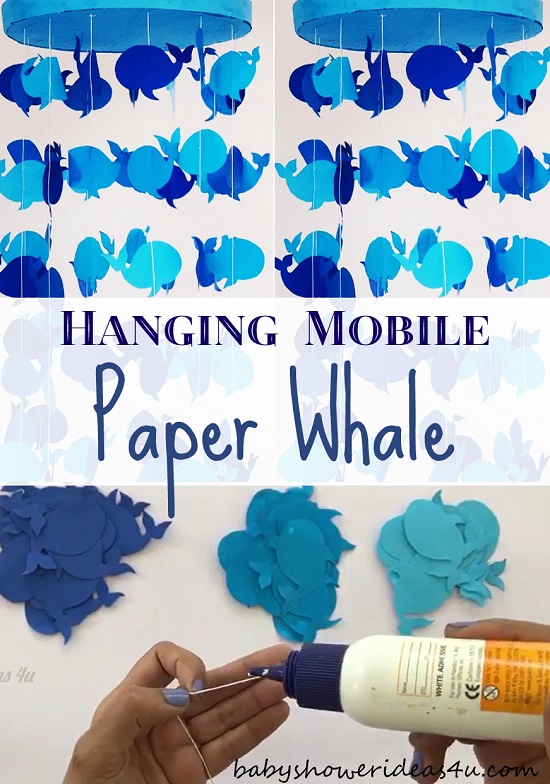 This adorable hanging mobile is the perfect addition to any baby shower, nursery, or party. This simple paper craft is sure to look stunning in any space, and you can even set up a mobile making station at the baby shower event!
Baby mobiles are so much more than just cute objects hanging from the ceiling or crib. Not only can they help soothe and calm your baby, but they are also a terrific way to give your baby's brain a boost. This cute whale mobile will not only provide your baby with something beautiful to engage with. It can make the perfect final touch to a whale themed nursery.
Great Handmade Gift
If you are planning on attending a baby shower, a handmade mobile can make a perfect baby shower gift. The mother to be will adore the thoughtful gift that will be cherished for years to come. Depending on the theme of the future baby's nursery, you can change the shapes and colors of the mobile accordingly. Experiment with different shades to get something that will fit just right.
How to use a Whale Mobile as Decor
This whale mobile would also make for the perfect decor at a whale themed baby shower. Hang it above the dessert or gift area to create an eye-catching piece. If you're having an outdoor party, hang it on an open hook outside or use a shepherd's hook to display your beautiful creation. The best part is that after the party, this craft can be easily transformed into a nursery decoration.
Under the Sea
Mobiles are not just for baby celebrations. If you're hosting an Under the Sea themed party, this mobile would be make a beautiful display hanging above any dessert or beverage table. You could even change some of the whales out for colorful fish or starfish to add an extra special touch.
Making a Paper Hanging Mobile
Watch the Video below to Make your own Hanging Decoration!
[youtube https://www.youtube.com/watch?v=7F1a8knyxYQ&w=636&h=360]
What you will need:
Thermocol Round 11cm Radius (22cm Diameter)
Colored paper (I used 3 shades of blue)
Stanley Knife
Scissors
Pencil
Ruler
Needle and Thread
Glue
Paper Clip