This, The Lord is my Shepherd baby shower theme was a brilliant idea designed by Moments by Wendy Larrauri.  Using fun favorites like sheep and soft colors, the party area was an absolute delight.
An outdoor patio area was used to displayed the adorable snack table, allowing natural light to accent all of the cute little details. A backdrop was made and covered in a lovely blue color, giving the atmosphere an elegant feel. On the back drop, sweet little stars were used to draw attention to the fantastic sheep art that was shown off.
The table used to hold the snacks was a wonderful vintage, neutral toned option that gave a unique twist on the standard serving tables. A wonderful, personalized banner that matched the theme perfectly was draped on the front, letting everyone know what baby-to-be's name was. The bottom shelf of the table was gorgeously arrayed in stars, flowers, grass and little touches that went beautifully with the theme.
The food blended right in with an arrangement of delicious options for everyone to try out. Perfectly detailed sheep sugar cookies were "flocked" together on a lovely white tray, each with a fantastic little blue bow.  Right beside them and arrangement of little white flowers was set, creating a bit of a meadow-like effect that was impressive and understated.  The cutest mini-cupcakes were made and dobbed with little clouds of white frosting, each with a sheep on a stick, bringing the theme into the sweet treat perfectly.
The centerpiece to the entire snack table was the celebratory cake.  Placed on a box covered in a neutral burlap, it drew attention marvelously.  The white cake tray was even incorporated into the theme with a soft blue bow wrapped around it. The cake was cascaded in soft billows of white frosting that seem just like a little fluffy sheep.  With a personalized artwork sign placed on top, this dessert was one-of-a-kind.
Credits - Moments by Wendy Larrauri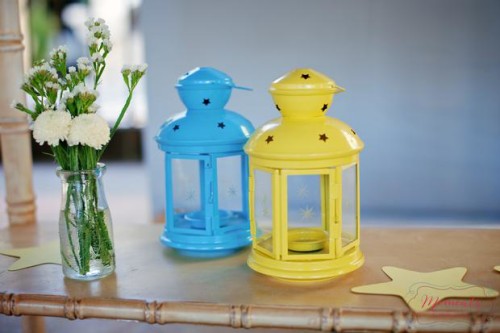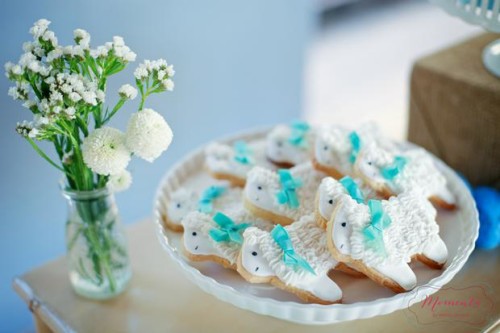 MORE INSPIRATIONS: