"Racing By" Drive-Through Baby Shower by EXTRAordinary Things by Arielle | IG: extraordinarybyarielle
In the current pandemic, event planners and hosts have to get creative with their party preparations. One trend that has sped into the spotlight is drive-by showers, where guests drive by the host's home to drop off gifts and pick up favors quickly. It's all the same fun and charisma of a typical shower, with no close contact!
Arielle, an event stylist, fully embraced this concept and gave one couple the ultimate racing-themed baby shower to celebrate the upcoming birth of their little one! The décor was equal parts cute, creative, and conscious of everyone's safety.
A huge welcome banner (I mean, huge) and archway welcomes the guests as they roll up to the starting line of the shower. Once they get the green light, guests come to the first Pit Stop – the Gift Compound. They can drop off their gifts with minimal contact but still see the smiling faces of the Mom and Dad of the Hour. Super cute and a perfect concept for the theme!
After the next leg of the race, guests come to the second Pit Stop – the Refueling Station! At this stop, guests receive a boxed lunch and delicious cupcake to thank them for attending. And all of it is packaged to-go in checkered-flag boxes that drive the racing theme home.
In between the two pit stops is the focal point of the whole event – the Finish Line. A "roadway" draws your eye up to the top of the driveway, transformed into a winner's circle for the growing family. It's complete with checkered flag patterns galore, a balloon tower stoplight, thrones for Mom and Dad, and an adorable little hot rod for their two little ones. And let's not forget the outfit that Mama is wearing! She looks fantastic rocking that racing suit.
Take a victory lap, Arielle; this drive-by racing baby shower brings all race fans to their feet!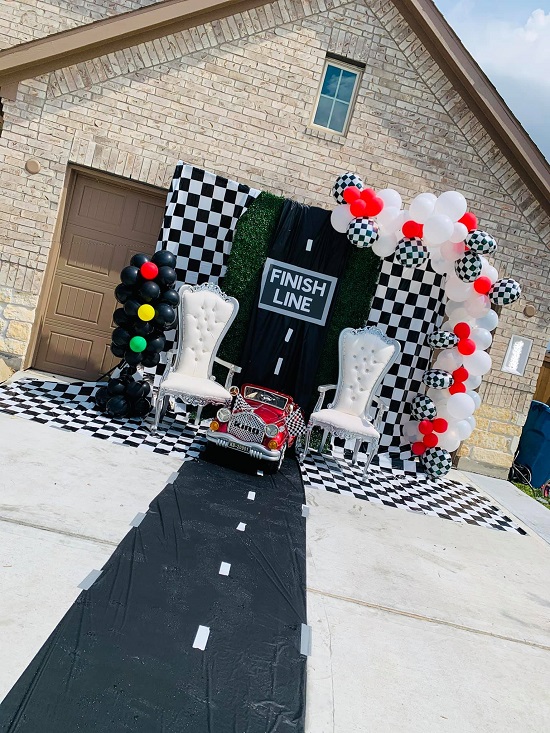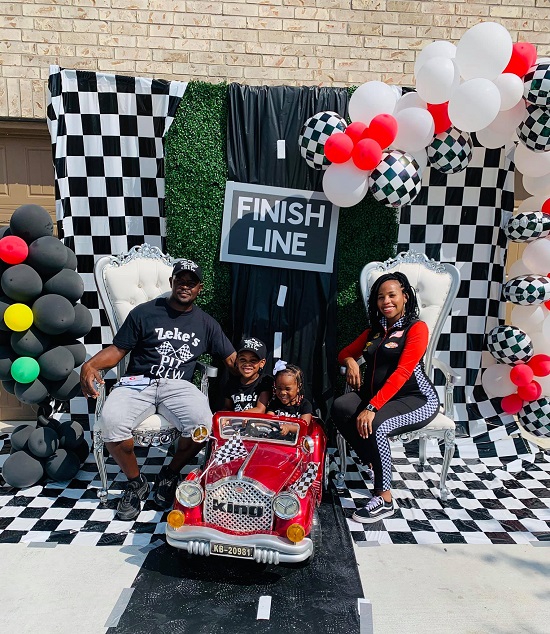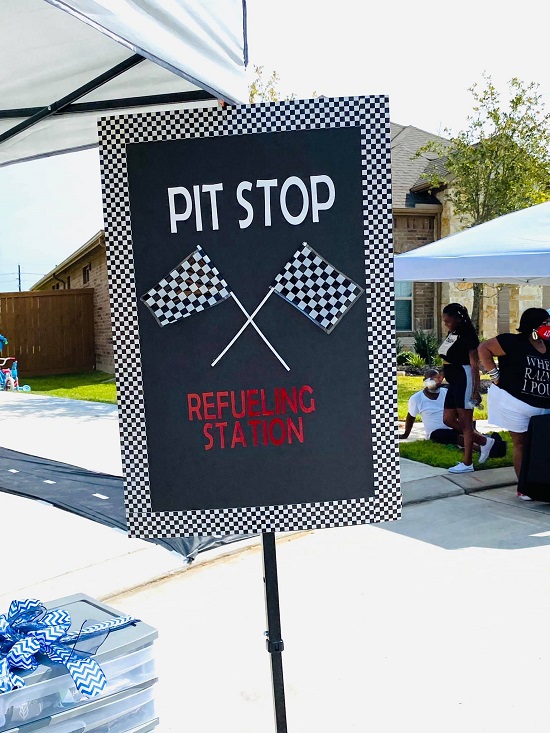 More Inspirations: How to Host a Baby Shower During Coronavirus