The Covid-19 has altered the state of the world and changed the way our day-to-day lives work. From new social distancing norms to mandated stay-at-home orders urging isolation for months, this is a situation that feels very much like time has stopped. But the fact is, life is still going on, and people are still experiencing important milestones in their lives, such as new babies on the way, weddings, anniversaries, etc.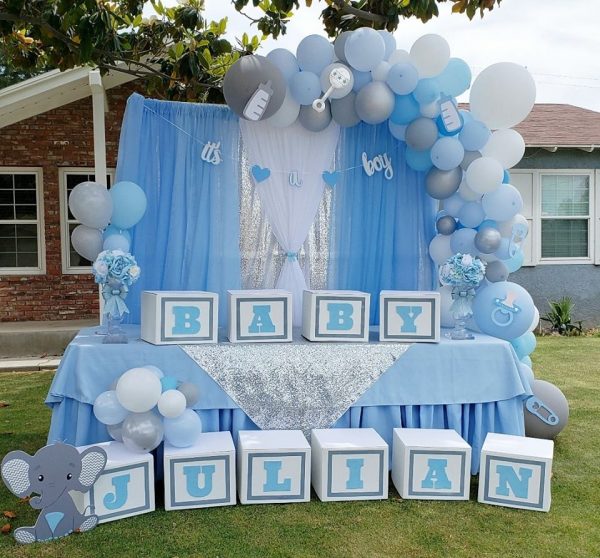 We don't know how long the world itself will be at a standstill like this, and celebrating these big milestones in our lives that continue on no matter what, is significant. There are ways to do this while still being safe and healthy during this pandemic, so if you've got a little miracle on the way, never fear! Below, check out the amazing ways you can still host a baby shower during COVID-19.
Baby Shower during COVID-19 Options
Virtual Baby Shower
We are so lucky to be in a time of video messaging in the forms of apps like Zoom, Skype, and FaceTime. There are one of two ways that you might choose to celebrate, but regardless of which you go with, send out invitations! We have plenty of free instant download digital invitations in variety of designs. Just because everyone can be together doesn't mean you can't make this celebration feel like a true one. Adorable invitations are a way to get into the spirit of celebrating the upcoming bundle of joy.
Livestream:
If you're looking for something a little more low key and quiet, you can settle in your baby's nursery with the gifts your loved ones have sent to you by post. Then, have all the guests hop on a conference video call through a shared app so that everyone can experience watching you open your gifts, and they can see the nursery you've created! If you don't have access to Zoom, you can even live stream on platforms like Facebook, Instagram, or Snapchat. This is convenient and easy for everyone, no matter what devices they're on.
Zoom Zoom:
But, if you want to go all out like you would if you could be together with your party guests, you can do that, too! For this, you'll need a video conferencing app (such as Zoom, as mentioned) so that you and all of your loved ones can share the screen together. For this type of baby shower celebration, give info to your guests in the invitation beforehand to be prepared to play whatever games you've decided on. You might even choose to send baby shower packets to your guests, which can include game materials and baby shower favors. You can even include ingredients to simple recipes so that every guest can enjoy the same baby shower treats that they themselves easily whip up! Things like minimal ingredient cookies and muffins are ideal for this.
Virtual Baby Shower Games
Some easy and fun games to play remotely with each other are Baby Bingo, Guess That Celebrity Baby, Who knows mommy best, and Would She Rather. I love printable activities because it is super easy to send guests digital versions of these. Guests can print it out at home or if they don't have a printer, they'll just need a paper and a pen to write down the answers ready to share with the rest of the guests. To make it more interactive, you can personalize the Guess That Celebrity Baby Game to include photos of the guest! You'll need to get the guests to send their baby photo to you, yes, it may sound like a lot of work, but trust me it will be worth the effort!
There are other virtual baby shower games you can purchase online. One great shop is ThinkGames, where you can find all sorts of virtual games using powerpoint. Some games are Battle Trivia, and Jeopardy game. The battle trivia has up to 10 rounds, but you can skip or delete rounds you don't want to use as they are very customizable!
Drive-by Baby Shower!
Like the Virtual baby showers, Drive-by Baby Showers are the new take on traditional showers. It is one of the most popular hosted baby shower during COVID-19. They are also known as a Baby Shower Parade, Curb-side Baby Shower or Drive Thru Baby Shower. This innovative idea involves asking your would-be guests to create signs and decorate their cars before cruising by your place to drop off gifts, pick-up food, and wish you well. It goes without saying that this keeps both you and your loved ones safe while still allowing you to celebrate for the special day.
Drive-by Baby Shower is an option that would work well if your close friends and families live in the same city. They would also need a car of their own as carpooling with friends that we are so used to would not be possible with social distancing in place.
A drive-by baby shower won't replace the traditional baby showers, but it is certainly fun and definitely won't be an event to forget!
What is Drive-by Baby Shower?
Drive-by Baby Shower is where the guests drive by the Parents-to-be's home and celebrate them with honking, cheers and gifts. Preferably, you'd want to organize the time well so that there'll be a line of cars outside, but if you are inviting over 30 guests, you'd want to make sure you set the time frame appropriately so that the road would not be totally blocked, as the last thing you'd want is complaints from the neighbors.
Hosting a drive-by baby shower might seem a little daunting, definitely a new challenge for you as no one has planned for one before nor been invited to it. Don't worry, it is not as hard as you might think, a lot of the hassles are actually taken away when you compare it to the traditional or virtual baby showers.
Drive-by Baby Shower Invitation
For invitations, you could send a group chat or prepare a digital invitation to email or you can still send out paper invites! The main details would include the date and a 30 minutes time frame for when the guests are to drive by. If you are inviting more than 30 guests, you may want to extend the time frame to an hour. Rsvp won't be necessary but if gifts are planned, be sure to add the registry details. You may want to take this opportunity to mention if the gifts are to be mailed or dropped off from a safe distance.
Wording for Drive-by Baby Shower Invitation
👉 "It'a a Drive by Baby Shower to honor xxxxxx
Since we can't be together to celebrate today, let' shower the family in a different way. Drive by to show your love and support. follow the signs to enjoy curbside treats, favors and a card/gift drop."
👉 "Beep, honk, shout & wave! It's a drive by baby shower honoring parents-to-be xxxxx. Since we can't be together today, let's shower the family in a different way. Beep, honk, shout, and wave. It's a drive by baby shower parade!"
Decorating for Drive-by Baby Shower
You can still decorate for the event, but it does not need to be elaborate. You can keep the decorations minimal with balloons or a large poster backdrop, a gift table by the curb, and comfortable chairs for the parents-to-be with their favorite music playing in the background. This would set the mood perfectly. Having a game just as the guests drop off their gift might also be fun. A suitable game would be a guessing game such as "guess how many jelly beans are in the jar." A winner could have a movie voucher mailed to them.
Favors for Drive-by Baby Shower
Although baby shower favors aren't essential, if parents-to-be are expecting to receive gifts, I think it would be nice to prepare favors for guests to pick up as they drive past.
6 Foot Block Shower!
If your loved ones live nearby and if the current restriction allows, why not gather in person with the necessary precautions to celebrate? By keeping things outside, and guests standing at least six feet from one another, you can all still be together and party for the baby on the way!
You can prepare goody bags with treats, games, and favors prior to the event and leave those in a spot in your driveway or yard for guests to pick up separately. You can do this same method with guests individually dropping off gifts in a certain area. Just remember—this idea for a baby shower is probably only possible if you have plenty of outside space, as the logistics for at least six feet of space would not work indoors.
Simple Drop-Off.
Here is another option for a baby shower during COVID-19. This is ultra-simple for everyone and completely stress-free. You can hold a simple drop-off and greet. Guests can drop off their gifts at your doorstep and say hello, and you can send them home with premade bags of baby-themed treats and fun favors. Hassle-free, no contact, and your loved ones still get to show up to celebrate you and your new baby.
Photo Inspirations & Pinterest Board:
Here are some photos of baby showers during COVID-19. It didn't stop the planners and host from throwing a memorable baby shower party!