All eyes will definitely be on these spooky Halloween eyeball cookies when they are placed on any buffet table. These delicious Halloween cookies are easy to make and the kids will definitely love to eat them!
Make a large batch of these cookies for a spooktacular Halloween party or make a smaller batch as the perfect snack to munch on this October. The rich chocolate taste is sure to satisfy your sweet tooth.
These cookies even provide the chance to get creative with the toppings. Add as many or as little eyes as you would like to each cookie. There is also room to experiment with other spooky toppings. Everything is sure to pop against the rich black color of the cookie. These treats might just become your new favorite Halloween snack!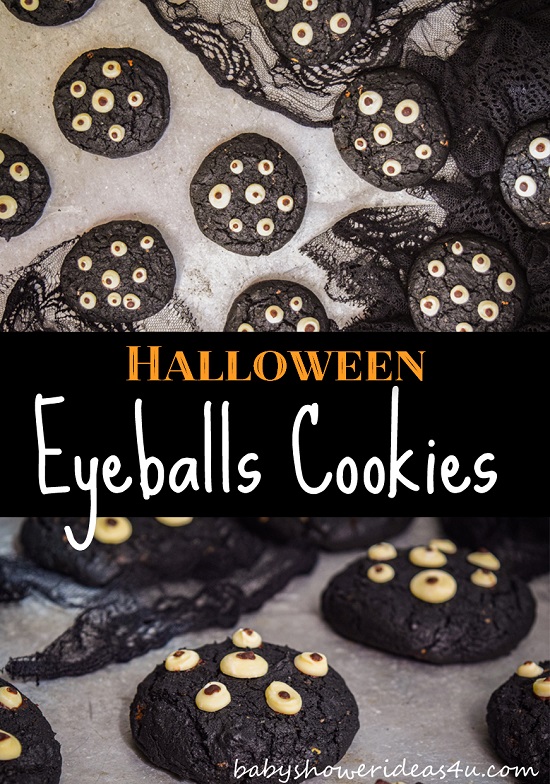 Eyeballs Cookies Recipe
Ingredients:
½ Cup unsalted butter, at room temperature
¾ Cup Coconut sugar
1 Large egg
1 Tbsp vanilla extract
1 Cup all-purpose flour
½ Cup cocoa powder
2 Tsp charcoal powder
1 tsp baking soda
2 Tbsp milk
Pinch of salt
1 Cup kinder chocolate, chopped
Candy Eyeballs for topping the cookies
Instructions:
1. Preheat oven to 350 F. Line a baking sheet with parchment paper. Set aside.
2. In a large bowl, add butter and coconut sugar. Using an electric mixer, combine until light and fluffy, for 3-4 minutes. Add the egg, vanilla, and milk. Mix well.
3. In a separate bowl, whisk together the flour, cocoa powder, charcoal powder, baking soda, and salt. Slowly add the dry ingredients into the wet ingredients in the mixer on low speed just until incorporated. Add the chocolate and stir well.
4. Scoop balls and place them on the baking sheet. Flatten slightly. Top cookies with candy eyeballs. Place the cookie sheet in the freezer for 15-20 minutes.
5. Bake for 10-12 Minutes. Let it cool down on the baking sheet for 10-15 minutes, then transfer to a wire rack to cool completely.