On the hunt for spooky and scary treats to complete your Halloween party? These cute and terrifying treats that are sure to spice up any dessert table and impress your guests.
These spooky spider cookies make the perfect festive Halloween treat! Crunchy chocolate whopper spiders have attacked these soft and flavorsome cookies to make a treat your taste buds will love. They are so full of chocolate and peanut butter goodness that they will be a hit at any party whether you like spiders or not.
These cookies are the perfect addition to any Halloween themed baby shower. Whether you choose classic colors of black and orange or opt for the trendy purple and black and color scheme, these cookies are sure to fit right in. Set them on a black tray at a dessert table or place them in clear cellophane bags for tasty party favors. These would look great mixed in with other cookies as well.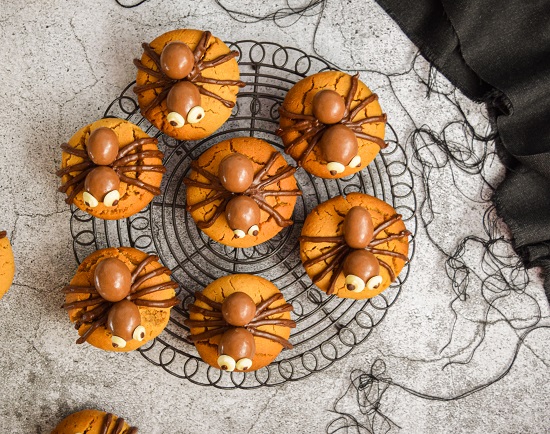 If you're throwing a Halloween themed birthday or party, these cookies are sure to be a hit with guests of all ages. The cookies provide just the right mix of cute and creepy. The cookies are easy enough to make that you can even get the kids involved in the fun!
Every year you get asked to bring a treat to your child's classroom Halloween party. Halloween Spider cookies are the perfect treat that kids will love! If your school it nut free, consider opting for a sugar cookie base rather than peanut butter.
Peanut Butter Spider Cookies Recipe
Ingredients:
Cookies
¾ Cup Coconut sugar
½ Cup creamy peanut butter
½ Cup butter, softened
1 egg
1 ½ Cups all-purpose flour
1 Tsp baking soda
½ Tsp baking powder
Cookie Toppings
1 Cup Chocolate almonds OR whopper balls
1/3 Cup candy eyes
Melted chocolate
Instructions:
1. Preheat oven to 375 F. Line a baking sheet with parchment paper. Set aside.
2. In a large bowl, add the sugar, peanut butter, butter, and egg. Mix well with electric mixer on medium speed. Stir in flour, baking soda, and baking powder until dough forms.
3. Roll dough into balls and put them 2 inches apart on the lined cookie sheet.
4. Bake 8-10 minutes until the edges are brown. Use a small spoon and indent the middle. Let it cool down on a cooling rack.
5. Once the cookies are fully cooled, pipe some chocolate dots in the middle of the cookie, then stick the chocolate balls in. Use some for the candy eyes then draw legs coming out of the body.