This gorgeous Enchanted Garden Baby Shower was recently submitted by the talented Lisa from Tickled Pink Celebrations. Her eye for detail was nothing short of astounding, each little bit of decor added an elegance that could make any mom-to-be feel special.
The adorable shower was held outdoors, which we love as natural lighting always makes every bit of color pop dramatically.  With a fun arrangement of different, vintage styled tables, the decor had a shabby chic look that really stood out. One adorable white desk was used to hold the tasty beverages provided and it was set out with the drawers open so piles of beautiful flowers could fill them up for a lovely touch. To add dimension to this lovely table, a box was used to hold a sweet pink lemonade dispenser. It was set with the open side out so flowers and a fun tower of tea cups could be used for additional decor that blended the theme in nicely. To the side a cute toadstool and bouquet of pretty flowers stood in between the beverages to give a full look.
Underneath a fantastic canopy, the treat table was put up and it was magnificent.  The backdrop used was a large, vintage style frame with a personalized picture in the center. It was laced with pretty pink flowers to give that ethereal garden effect. The table was covered in a cute layering of white that added depth while making a soft stage for the sweet pastels to shine on. With fun natural touches like birdhouses, logs, and plants, this table was filled up with more than just tasty delights. The celebration cake was perfection, a marbled yellow and white frosting ensured that it would be a wonderful centerpiece to the garden celebration. It even had a cute little flag banner spelling "baby" out.
Credits – Lisa from Tickled Pink Celebrations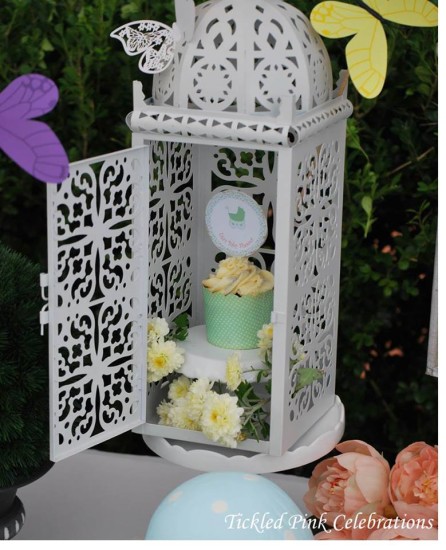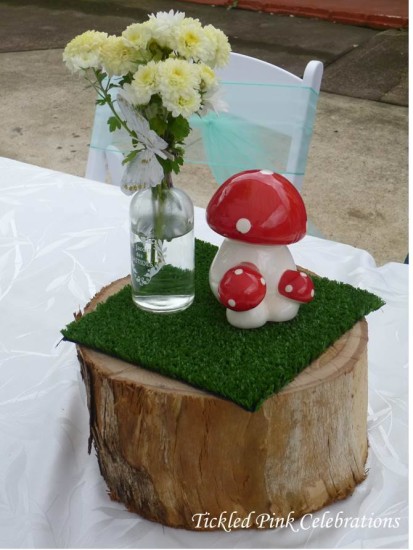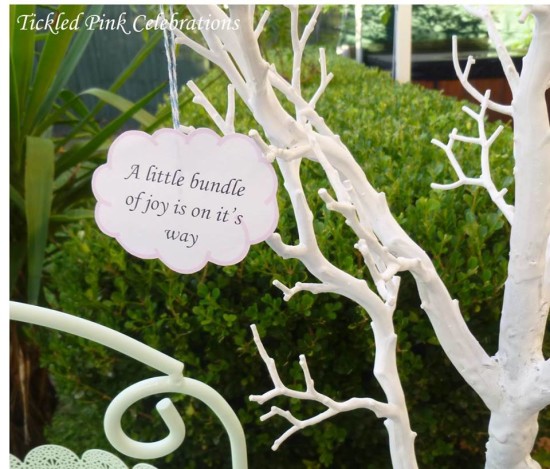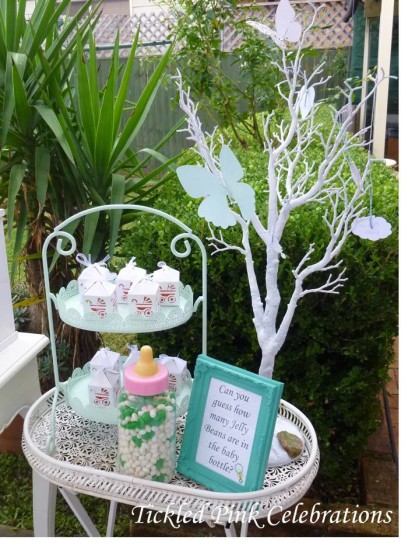 MORE INSPIRATIONS: