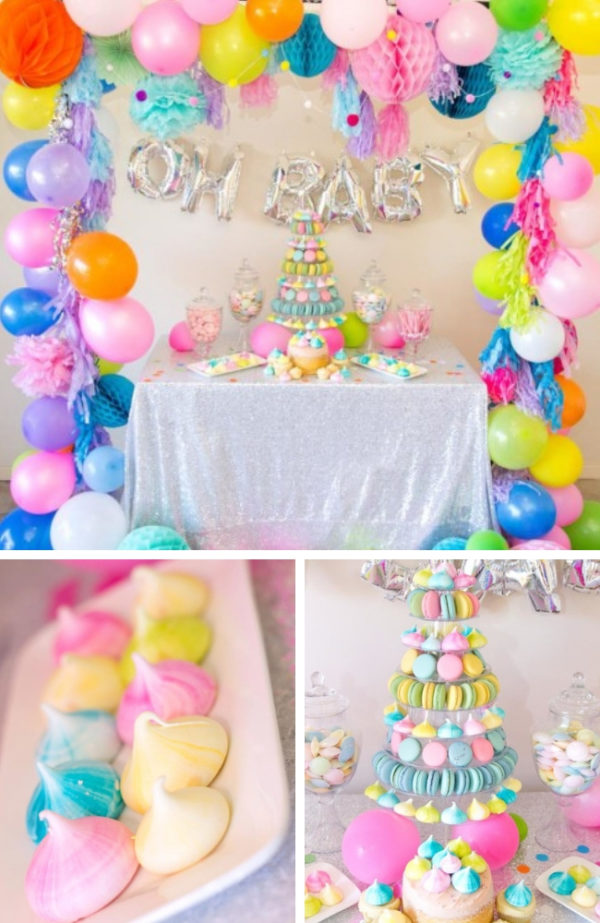 Event stylist Perfectly Sweet put on a breathtaking baby shower full of adorable adornments and a colorful palate of treats and décor. The baby shower event had its very own precious theme in a "Oh Baby" motif, and it was definitely full of happiness and a bright atmosphere.
A big and bold main event table was set up with all the yummy food, along with a gorgeous backdrop to frame the entire presentation of the table. "Oh Baby" was spelled in large, silver balloons on the back wall behind the food, while a glittery silver tablecloth was draped over the table itself. Tissue ribbons and tassels framed the table from the ceiling to the floor, and they were paired brilliantly with balloons, tissue puffs, and globes. All of this work was gigantic and masterful, done in pastel hues of vibrant oranges, greens, pinks, yellows, and even more multiple shades of blues.
The food seamlessly matched the decorations in both colors and fun style. In the middle of the event table sat the main event "cake". Here, the cake was made up of a towering display of tiers of multicolored macaroon cookies and meringue drop candies. In front of this tower was a small cake, simple with just a bit of pink frosting and surrounded by miniature and regular sized cupcakes alike. Large glass apothecary jars were filled with more sugared candies in matching pastel colors, while fun confetti was sprinkled all over the table.
With its wide array of sugary sweets and beautiful blends of décor color, this creative Oh Baby shower event was a memorable one that was full of pleasant backdrops and memorable creativity. Quite perfect to welcome a new little bundle of joy into the world.
Styling and concert Perfectly Sweet
Macarons by Passion Tree Velvet
Cupcakes and Cakes by Jocelyn's Provisions
Meringues by @lucids sweets
Oh baby balloons by Party Pony Designer Pinatas
Confetti from Ruby Rabbit Partyware
Tablecloth from Any Occasion Events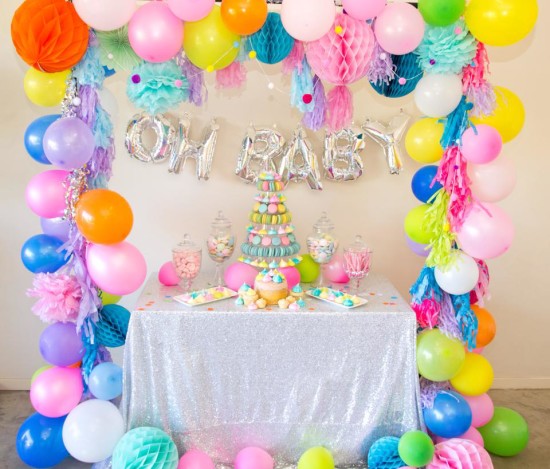 MORE INSPIRATIONS: