Sally of Happy Happenings Events LLC brought innovation and sophistication to life with this sweet Kate Spade Inspired baby shower. A bold arrangement of pinks, gold, black and white were used to fill this venue full of fun and excitement.
The dessert table at this Kate Spade Inspired Baby Shower was fantastic with all sorts of fun diy decorations that really stole the show.  A creative backdrop was made using white curtains to frame a wonderful black and white striped centerpiece, ensuring a bold effect that was displayed through the whole room. To add some cuteness to the curtains tons of large hot pink flowers were attached, giving the look more texture.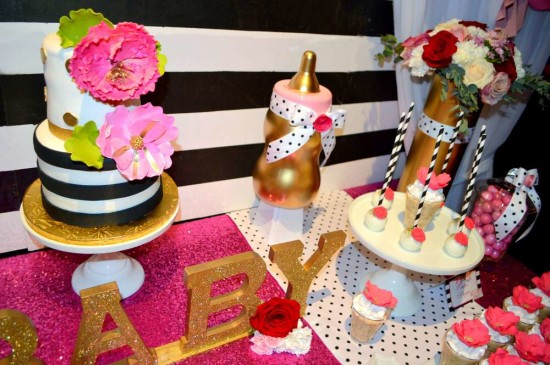 A gorgeous sparkly pink cover was used on the table itself to set a stage for tasty treats that any guest could love.  Two cute black and white polka-dot runners were used vertically to add to the unique aspect of this Kate Spade inspired shower.
The polka dots were incorporated throughout the table along with the black and white stripes, really pulling the theme together smoothly.  Vases were wrapped with polka dot ribbons and the labels for the foods had the stripes, along with some sweet sugar cookies and even swirly straws.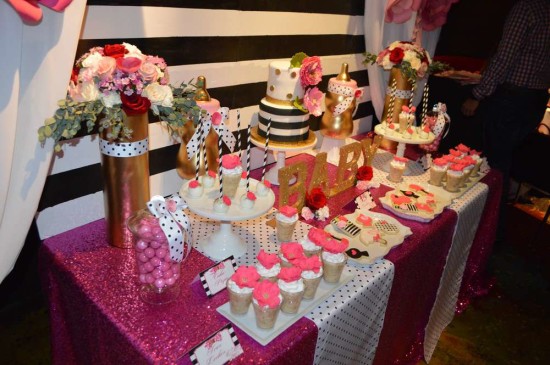 Flowers were used to fill the ends of the table with beauty and life. They were placed in wonderfully golden vases that matched some adorable baby bottle decorations that were also on the table. The word BABY was spelled out in bold, sparkling gold letters, making it a perfect centerpiece to the table. Those were place with precision in front of the stunning celebratory cake.  Two layers of sophisticated beauty stood on top of a tall cake tray. It was even decorated with flowers on the front for a neat look.