This Minnie Mouse baby shower was sweetly put together by the fantastic Momenti Decoraciones, who took the classic character and combined it with an array of elements to finish with a memorable celebration for mom-to-be.
Using a blend of pinks, ivory and white, this venue was decorated with precision, ending with an elegant look that stood out beautifully.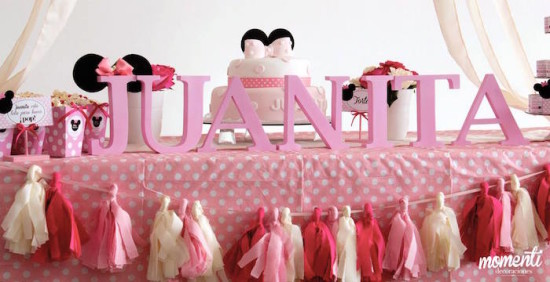 Instead of showcasing Minnie as the cartoon figure, her silhouette was showcased in the decor, giving a modern twist to this adorable theme.  The dessert table was an abundant blend of patterns and textures, drawing the eye with all sorts of fun touches.  A pink and white polka dot cover set the stage for tasty treats and diy decorations. In front of the table a wonderful fabric tassel banner was strung in pink and ivory, accenting the theme perfectly.
A creative addition to the table that made it one-of-a-kind was the use of sheer cloth to drape from the ceiling down to lay smoothly on the back of the table. This gave a fuller feeling to the table.  Gigantic poms in neat floral, and patterned looks filled the space above the table as well, adding to the decor spectacularly.
Baby-to-be's name was spelled out in large pink letters across the center of the table, ensuring that everyone would know what this party was all about.  There was yummy looking popcorn placed in polka-dot boxes with little Minnie silhouettes on them for the guests to enjoy.  A personalized sign advertised this snack with a fun style.  Candles were wrapped with special tags as well for the visitors to take in celebration of the life to come.
The cake for the party was made in simple elegance, two layers in polka dot fondant with baby's name on the front and Minnie's ears and bow as a topper.
Credits –
Decor: Momenti Decoraciones – Valeria Aponte R
Photography: Leonardo Valencia, Valeria Aponte R
Cake: Cuina Rosa Cattering
Location: Hotel Varuna Manizales, Colombia
MORE INSPIRATIONS: