The Minion movie is arguably the most adorable little thing out there, so what better theme for a baby shower than these tiny, yellow cuties? You'd be hard-pressed to find anyone who doesn't love the minions, so guests will be especially excited about this baby shower when they get their own little minion-inspired invitations in the mail.
And lucky for you, this is an easy and extremely fun baby shower to decorate for! Whether you choose to go the DIY route, pre-buy everything, or both, you'll be delighted at how many options are out there for all things minions.
Minion Baby Shower Invitation
Minion Baby Shower Decorations
You've got a really easy color pallet to work with when it comes to décor and food—yellow and blue! or yellow and pink for baby girl!
Little stuffed minion toys all around the venue (which you can add on to the baby's nursery later), a garland made from baby minion onesies that you can request guests bring for the new baby, and balloons that are little minion faces are must-haves for your minion baby shower.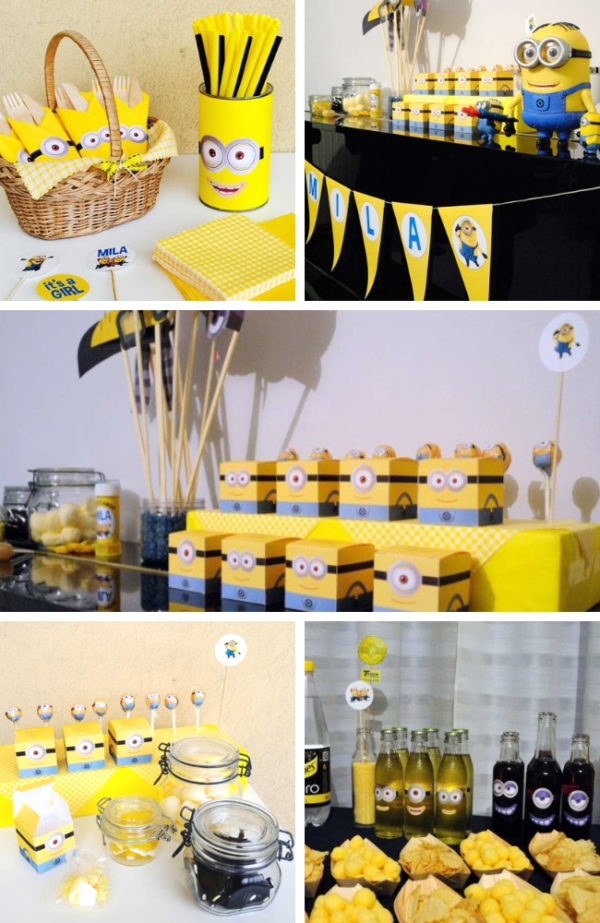 Have the Minions movies playing in the background, and set up a fun guest activity to guess some minion gibberish phrases.
Chalkboard signs welcoming the new bundle of joy in minion speak, streamers in bright blues and yellows, and big posters—as many as you can get your hands on—of all the minion favorites, really round out the theme of the party.
Minion Baby Shower Favors
You can also put together some truly awesome guest favors keeping in the theme of really cool minion items such as socks, keychains, koozies, wine charms, and hats! Wrap up your favor bags with really big yellow and blue bows, and cover them in little minion stickers!
You can even make some cupcakes and throw in some minion colored sprinkles on top, then finally box it up nicely!
Minion Baby Shower Food
Speaking of food, craft up a yummy food table like no other for this shower.
A big cake in the form of the mom-to-be's favorite minion is a perfect idea, along with cookies in the shape of as many of the different minions as possible.
Cake pops with minion faces, apothecary containers full of minion candies, or just yellow and blue sweets in general, along with plenty of yummy finger foods and refreshments, are all fabulous additions for your guests' hungry tummies!
Of course, you also can't forget the aesthetics of the necessary items, such as tableware. Minion plates, napkins, forks, and servingware all add an extra touch of minion fun to the party—plus they are disposable, helping you to clean up your afterparty mess up in a breeze!