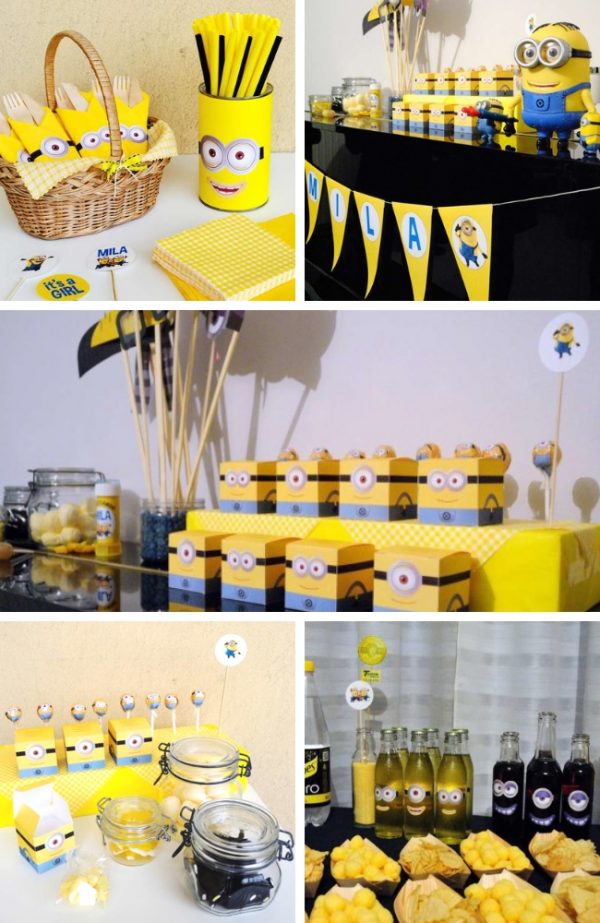 Girl Minion Baby Shower by Think-Ink:
Instead of sticking with classic pink to celebrate a sweet baby girl, Think-Ink put together a vibrant yellow Girl Minion Baby Shower to remember.  This adorable party was full of cute details that made it unique and fun-filled.
All over the venue, the bright yellow colors of the Minion detailed decor brought attention.  From the personalized wrapped silverware in Minion decorated yellow napkins, to the yellow straws in a fun Minion decorated jar every item was incorporated into the theme to perfection. A spread of fun solid yellow and checkered white and yellow napkins was laid-out to ensure there was enough for everyone.
A fantastic snack table was placed in front of a sheer grey curtain, giving a stylish touch to the look.  The table was black, making it a bold background for all of the yummy yellow treats.
Little yellow trays were filled with chips and cheese puffs instead of having a community bowl, making it a more sanitary and easy to grab option.  Bottles of juice and soda were dressed up with cute Minion faces, letting them match the theme in a fun way.  A tasty dessert made a lovely addition to the table with lemons decorating the top along with fun Minion pictures on sticks.  Another tasty pie stood out with an actual edible minion crust in the center.
A table to the side sported a sweet Minion baby shower flag banner across the front and wonderful Minion boxes with goodies for the guests.  With stuffed Minions standing at attention at the front of the table, there was no doubt as to what the theme of this sweet celebration was. A cute arrangement of characters on sticks was in a jay, adding dimension to the back of the table.
Credits – Think-Ink | Shop | Facebook