"Oh Boy!" Here Comes a Little Man!
When planning a boy's baby shower the, "it's a little man" theme seems to be very popular. There are a lot of things that can be done with it and people really seem to enjoy the outcome when they get to the party and all of the decorations are up. It is pretty easy to plan, especially since this baby shower theme is very popular, it is easier to find supplies.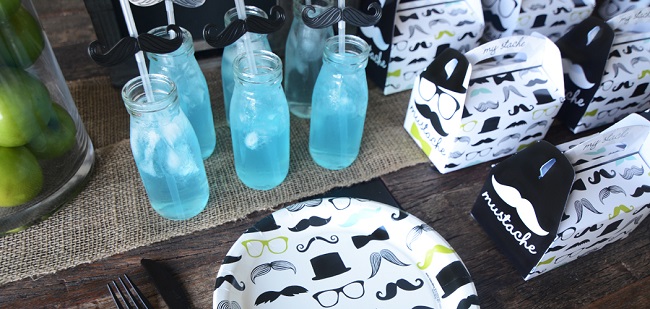 Editable Invites

People love little mustache everything for this theme. You can make or find invitations with mustaches printed up on them announcing the arrival of a little man due soon. They come in different shapes and designs so you can pick what you like and write what you think is appropriate or cute on the invites.
Invitation Wording
Some cute and popular invitation words are:
"A little man is on his way!"
"our little man is coming soon!"
You could even seal the envelopes with little mustache stickers for an extra cute touch that everyone sees right away.
Decorations
Little man themed decorations you could use are bow ties as accents to the mustaches or instead of them. You could bake a cake that looks like a shirt with a tie on it, create a table napkin into a bow tie. You can mix it up with a little of everything or pick your favorite and go all out with it.
The cake is actually easy enough to make at home. First consider how many people will be attending of course and how pig a round pan you would need to feed them all cake. One you have the right size round pan and enough cake mix for the amount of people in attendance you simply cook one round cake as the directions say. Be sure to grease the pan well because you will need to come out whole. Once it is completely cooled from the oven (completely cooled inside and out), put it on a cake plate.
Hopefully it will slide right out, a perfect circle, and sit in the middle of your plate. At this point, you simply cut is like a yin yang without the dots. One big "S" cut to separate the two sides evenly. Once they are separate you can put them round end to round end, and it will look like a little mustache. Some chocolate frosting and the right effect and it will look exactly like a mustache fit for everyone to eat!
Keep in mind, you could also make an adorable little man diaper cake which will be a perfect centerpiece as well as a gift.
Decorations are easy. Little mustache themed plates and mustache napkin holders and a paper mustache on the banner or one on each side will carry the theme on. You can put them anywhere you want and as much or as little as you want. If you can't find a place to buy them, they are easy enough to make. If you can do it with a cake than some black construction paper should be a snap.
Tableware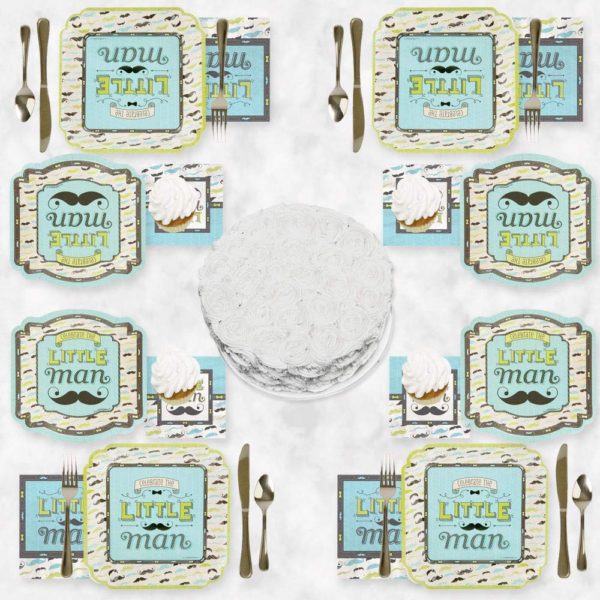 Little Man Printable
FREE Little Man Baby Shower Printables
Little Man Baby Shower Pack – Use Coupon "50baby"to receive 50% off!
.How to make a bowtie using Napkin tutorial by FabooshFabook via youtube.
Games & Activities
Here is a free mustache photo booth printables. You would need to print preferable on thicker cardstock paper or print on a regular paper and paste it on a thick paper. Attach to wooden dowel rods or bamboo skewer with super glue or a hot gun glue. Click on the image or here to get PDF.
Other popular baby shower games include; price is right, dirty diaper, baby around the world! Printable available below.
FREE Printable Little Man Baby Shower Games
FREE Printable Photobooth Props
Favors
For baby shower favors, there are cute favors to give out. Some people go with the chocolate mustache candy on a stick for the favors because they are just so cute and keep the theme going. Otherwise you could put mustaches on cupcakes and give those as favors or even as opposed to making the mustache cake.
Remember, when coming up with baby shower ideas, just because you pick a theme does not mean you are stuck with it for everything. You can use all mustache if you want something cohesive or you could go with a few different little man elements and carry them through the whole party if you think it is too much of one thing. There are plenty of ideas out there so don't feel like you have to be stuck doing everything just the one way. You are planning this shower. It can be whatever you want it to be. If you think all of one thing makes it the perfect themed baby shower perfect, if not mix it up . It is all up to you!
Follow My Mess Baby Shower Dashing Little Man Theme on Pinterest