A monkey themed baby shower is the perfect theme for a baby boy, girl, or event twins! You can choose from a variety of color schemes for your monkey themed baby shower! There are a plethora of pale pink  and pale blue money related decorations. If you're not sure if you are celebrating a baby girl or boy, you can even opt for the colors the jungle! A monkey theme is also a popular theme for nurseries, so some the decorations could pull double duty! It's time to plan a party to celebrate your future "little monkey." Below are a few ideas to get you started!
Monkey Baby Shower Decorations
For a monkey baby shower, decorations can be limitless with the right kind of inspiration. Either you can go for a green jungle theme, or a baby blue (pink) color theme featuring brown monkeys, both of them are lovely and fit as a background colors for lively brown monkeys. Once you have decided on the color, you can start crafting decorations.
What's better than a baby shower hosted as a safari experience? Set the scenery by crafting two palm trees that will frame the food table. And don't worry about the work, palm trees they are so easy to craft! You can go paper palm trees or go for a bundle of balloons to shape the tree.
FREE Monkey Themed Printable
Using simple cardboard tubes or cones and green construction paper is enough. Cut the paper in narrow long sheets and stuff them into cardboard tube. Link the palm trees between them with a ribbon hanging some cute little monkeys over the table. Final effect will be awesome. There is a video below via youtube showing another way of making a cute palm tree. Splash the rest of the room with monkey brown and yellow pom-poms. They are very cute and out of the ordinary. You can test your limits by setting a "chill" zone area framed with smaller palm trees plus some relaxing bean bag chairs. Use this area for casual talks with a virgin jungle cocktail in hand. Guests will be surprised by your creativity.
How to Make a Paper Palm Tree by eHowArtsAndCrafts via Youtube
Monkey Baby Shower Invitations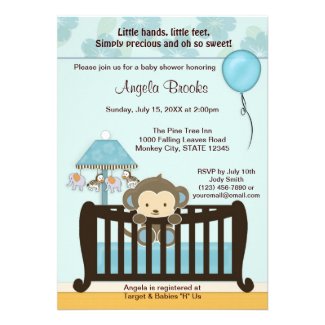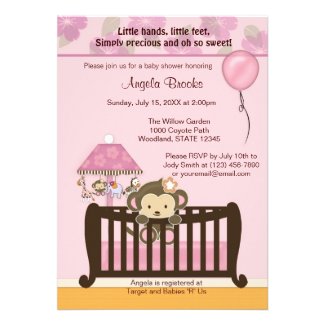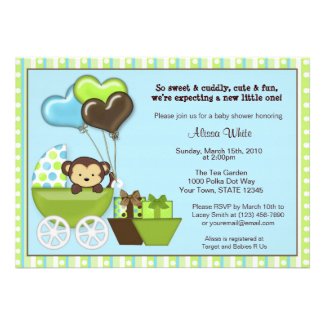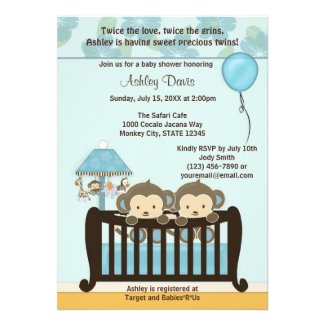 Match invitations with the color of your theme. There are a dozens websites that are specialized on baby shower monkey invitations. If you are planning on crafting own invitations, you could use websites for inspiration and ideas, this way you won't risk chances of using a very popular sample. Baby showers are a popular event so it's important to be original and unique! Get inspired and try to create your own invitations.
Monkey Baby Shower Food
Since it's a monkey baby shower, food also has to match the theme. There are many recipes you can try that are very tasty like crisp riced cookies monkey shaped or the popular banana split which is also easy to make and very good looking on the table. All you need is some ice cream, chocolate sauce, bananas and whipped cream. Dried bananas, yellow banana heads lollies, sugar bananas, or banana flavored jelly beans in a bowl will fit nicely to this theme as well.  Make the food more attractive with Monkey themed labels. Serve and label some 'jungle vines' red licorice, 'banana balls' yellow lollies, 'king kong' burgers, and so on .
Don't forget about the cake which also has to match the theme. You can use chocolate mud or caramel butter cream for filling and green or blue fondant for decorating and shaping.  Here's is one time where you can go crazy with colors. Cakes can be decorated in so many ways, but keep in mind they also have to fit in the whole story. How about a monkey diaper cake.  Although they look delicious they are not edible but it will surely be a perfect centerpiece. For a centerpiece you could also simply have a batch of about 10-20 unpeeled bananas sitting on a cake stand, this will surely stand out.
How to Make Monkey Crisps Rice Treats by Wilton
As far as drinks are concerned, either you choose virgin or alcoholic cocktails (as long as Mommy to-be don't mind it) you can always go for green punch made of ginger-ale, pineapple and lime sherbet. If the background color is blue try a blue berry punch lemonade. Place some little plastic monkeys hanging off the glass rim. To fit even more into the monkey theme, personalize glasses and paint them with monkeys plus baby shower's date. You can use them at the end as baby shower favors.
How to Make Monkey Cake-pops by DessertDecorating via youtube
Monkey Baby Shower Games
Think about some activities you can entertain during baby shower. Look for games that the guests will enjoy. There are icebreaker games, word games, trivia games, popular games and so many more to choose from. For example you can play the popular, "What's in your purse?" game. Or a modern version of that game, 'what's in your phone'. Design a printable matching your theme and pick some objects that you can find in a lady's purse. It's more diverting if you use strange things that you know your girlfriends carry in their purse and it's a general fact that women purses are like little shops, you can find everything in there. Another game is a nursery rhyme quiz. For this game you can find a printable on the internet featuring some lines of popular nursery rhymes.
Guests have to put their imagination to work and find some interesting rhymes. You will have so much fun at the end reading all of them. But each game has a winner so besides the glasses which everyone will get you can always reward the winner with special prizes such as monkey candy jars or very easy to make monkey pillows. This way everyone is happy by getting something special.
Monkey Baby Shower Favors
Follow My Mess's board Baby Shower Monkey Theme Inspirations on Pinterest.