Three Peas in a Pod
One great theme for triplets is the peas in a pod theme. You can have a cake with 3 tiers. if you know the sex of each baby you could go with each tier in pink or blue, one for each baby. If you do not know the sex than a pretty baby green is absolutely perfect! You have them draw vines going up all 3 tiers of the cake to the top. At the top you have three smiling peas in a pod. It is such a cute cake and perfect for triplets.
You can take the pea theme all the way too. You can get napkins and plates with 3 peas in a pod on them. If you fill a candy dish with green jelly beans they will look like little peas. The other way to go is to use a cylindrical flower vase and fill it with either jelly beans or actual peas and have green flowers in it. Even some of the gifts can be 3 little onesies with 3 peas in a pod on them. They will look too cute in those!
You can make the banner pea themed too. Have a picture of three peas in a pod and the banner can say something like "we can't wait to meet you three sweet peas". Even the party favors can be pea themed. If you wanted you could give everyone a sweet pea scented candle, lotion or hand sanitizer. You could even, if it isn't too expensive, find little porcelain three peas in a pod statues.
The great thing about this theme is that the cake is perfect for triplets, and you can do pretty much anything. While shopping at a party store anything green or pea themed that you like can be incorporated and you can even mold jelly into circles and have pea snacks. This theme is just so cute and so much fun that everyone is sure to love it!
Full House Playing Cards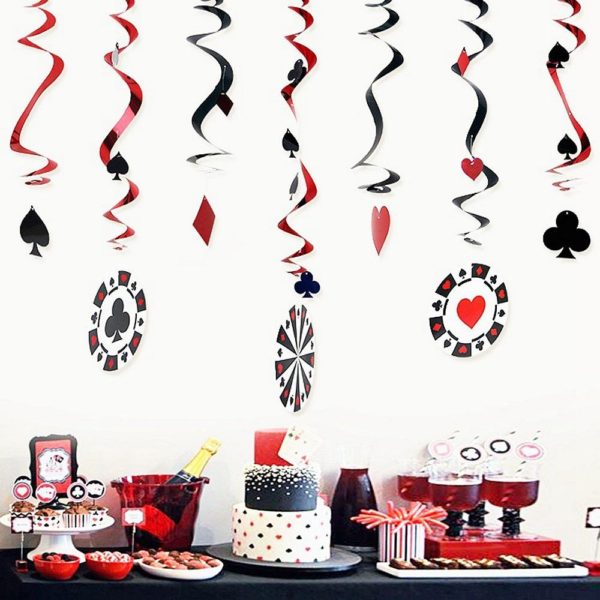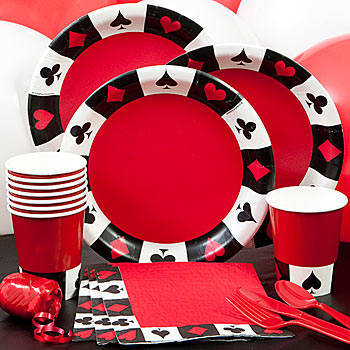 If you don't like the peas in a pod theme and want to go a little more out of the box there is a perfect triplets theme. What about a full house themed baby shower? 2 parents and 3 babies does make a full house. You can have playing cards everywhere. You can glue a full house hand together so that it stays perfectly fanned out and give them out as favors, use them as decoration or even as coasters.
You can find playing card themed tableware and decorations such as plates, napkins, cups and pompoms so you can go all out. For the cake there are a lot of ways you can go with this. You have a 5 tiered cake with alternating black and red layers. You could have a sheet cake with a full house drawn on the top. You could even have a three tiered cake, one for each baby and stick playing cards at the top showing a full house. You can draw all of the suites around each layer or even draw cards on it. There are just so many ways that you can go with this theme for the cake, so pick whatever idea you like best or even one of your own.
The banner can say "Soon You will have a full house" and you can have red and black balloons. This theme is really fun. You can do wherever you want with it. One cute idea is to glue poker chips all around the outside of the chip bowl. That will carry the theme to the food table as well. You could also make black and red foods if you wanted to.
Triplets are such a blessing and so rare that they should be celebrated a little extra. So try to really have fun with everything and make it something that everyone will talk about. There are so many ways to go with these themes that you can plan it however you want to. Take whatever ideas you do like and make up the rest if you want. If you want the theme to be low key and have a regular shower than you could even carry the theme to just the cake or the banner. Go as far as you want with it.