For the King or Queen of the Jungle Baby Shower!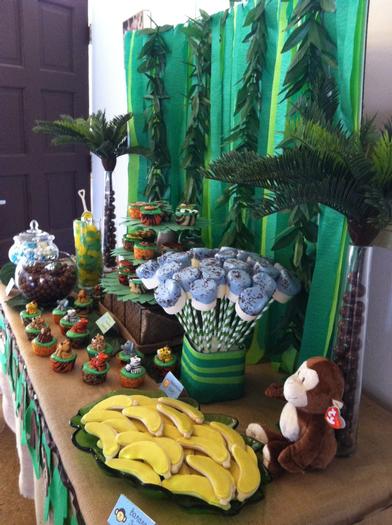 Credit to
Lacey Cakes
Jungle Baby Shower Decorations
For a perfect Jungle theme, turn the room or backyard into a wild jungle with green, yellow, brown balloons, streamers, real or craft plants and hanging ropes here and there to mimic the vines of the jungle and hang some stuffed monkeys or green paper cut leaves on the vine or the wall. You could use burlap fabric tablecloth to give a nature look as well, otherwise you could look for animal patterned tablecloth.


Set the mood by playing a jungle sound music in the background. Jungle sound can be something like rain falling or birds twittering or a lion roaring. Have maps or images of rainforests around the room, and place warning or direction signs such as 'DO NOT ENTER' with a image of a wild beast, or have signs one directing to 'Jaguar' on left, 'puma' to right.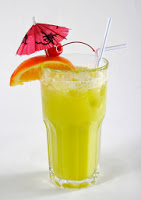 Food & Drink Ideas
You can serve tropical fruit juice, even a fruit platter with tropical fruits such as mango, passion fruit, pineapple, banana and kiwi. You can have unpeeled small bananas, dried bananas or banana lollies in a bowl with a label ' bananas for monkey', then 'nuts for elephant' next to a bowl full of nuts, and 'cheezels for cheetah'. Make some zebra cookies (zebra patterned cookies), jungle sandwiches (leafy sandwiches) and Jungle puddings (brown and green colored puddings) too.
Jungle Baby Shower Invitations
FREE!!
Below Printable is $5 Jungle Themed Baby Shower Pack
Jungle Baby Shower Tableware
Jungle Themed Baby Shower Decoration Ideas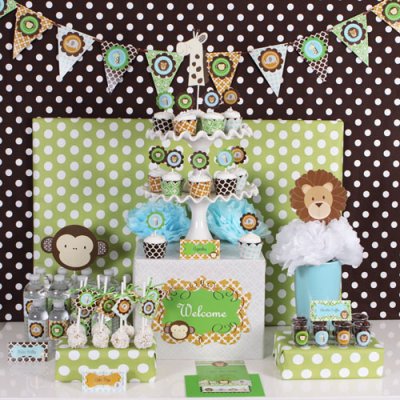 Jungle Themed Baby Shower Favors
Adorable jungle themed favor bags, little notepad, palm tree favor boxes.
Jungle Theme Baby Shower Activities
Follow My Mess Baby Shower Jungle / Safari Theme Inspirations on Pinterest