Adorable LadyBug Themed Baby Shower Ideas:
What better way to celebrate your new little love bug than with a modern ladybug baby shower theme. Popular theme for little girls, this one-of-a-kind theme dazzles everyone with a color scheme of red and black or even white and pink. The banners, favors, invitations, and tableware can all be designed to feature a whimsical ladybug image with flowers surrounding them. All the items can be uniquely shaped and can be personalized any way you want them to be.
Decorate the party room with banners and cut outs of flowers and ladybugs put them all over the walls, include polka dots as well. You could have miniature white wooden picket fence to give the dessert table an outdoor feel. How about a dessert table decorated with paper grass table mat or a table cover . For invitations, think about printing your own invitations and adding a little tag or personal note on each one. Even make your own thank cards, with a little ladybug printed on the bottom or top corner, and hand write your message to each guest. There are ladybug puncher for getting a perfect shape of a little baby ladybugs or confetti which would work perfectly on invitations as well as thank you cards.
Ladybug Baby Shower Food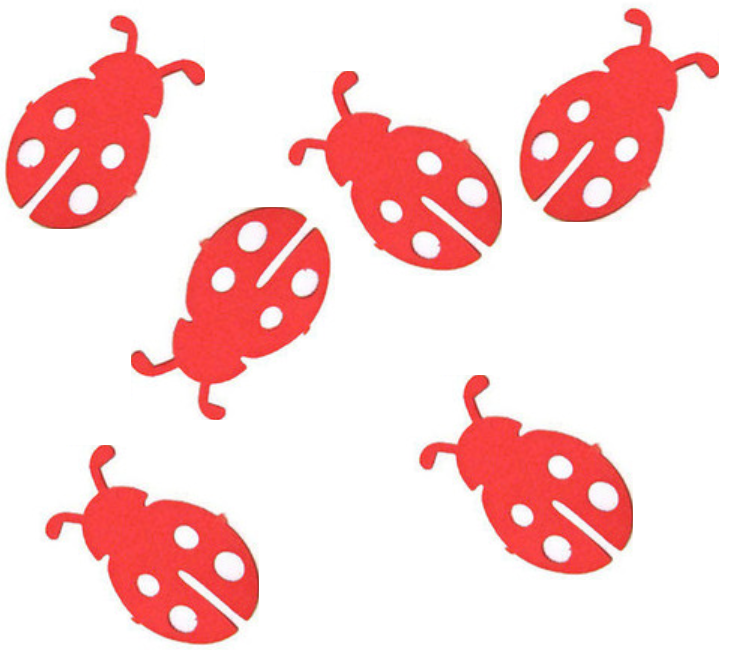 When it comes to the food you could even print out your own ladybug folding buffet cards and make individual cupcake toppers or centerpiece sticks with some ribbon, paper, stickers and a toothpick or Popsicle sticks from the store. You can even add a little ladybug sticker to napkin rings or just get red and black ones. Getting more creative a homemade centerpiece could be an old Mason jar filled with some candy and the top covered in red and black lace and ribbon intertwined. As an adorable and unforgettable party favor you could create photo magnet clips using clothes pins as the clip, and add a little ladybug on the bottom of the clip.
Ladybug Baby Shower Invitation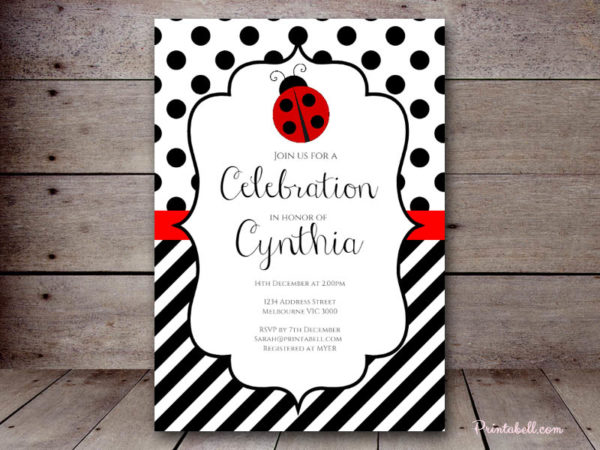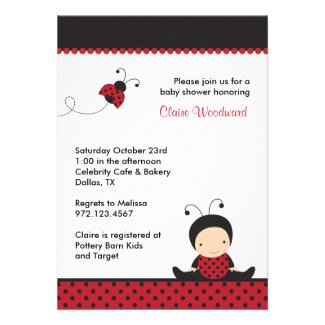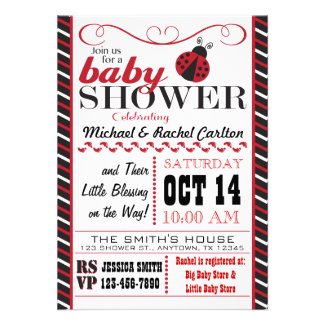 For drinks the best way to go is make some raspberry tea or pour some HI-C punch in a punch bowl and put some black re-usable ice cubes in it to float around. For food how about a red Jello salads, chocolate-covered strawberries, make a vegetable tray with sliced red peppers, black olives, radishes, and cherry tomatoes and add a dip or too; As for a fruit tray put together some red-skin apples, raspberries, chunks of watermelon, and strawberries with a cream cheese strawberry fruit dip.
For a light snack or some more finger foods you could make mini pizzas using pepperoni with some black olives. If you are serving appetizer then a tomato ladybug biscuit would be perfect. You would need your homemade cream cheese or Philadelphia cream cheese from supermarket, ritz biscuits, black color paste, cherry tomatos, olives and chives. Cut the tomato in quarter and place one quarter for each ladybug wing. Use half olive as ladybug head with two chives which is for the antennas inserted into the olive. Use black paste coloring for the spots on the wings. 
Ladybug Theme Tableware
Ladybug Baby Shower Games
Ladybug themed appropriate baby shower game ideas include a guess how many game- which is just a jar full of a mixture of red and black jelly beans, count them as you put them in, and whoever gets it right or the closest wins.
You can also create your own games, making them printable such as bingo or a word search. Lastly, create a twist on pin the tail on the donkey and make it pin the dot on the ladybug or instead of an Easter egg hunt, make it a ladybug hunt- have plastic ladybugs or make some with red marbles or rocks and hide them all over the house, make sure to get the bathroom especially, and who ever finds the most ladybugs wins.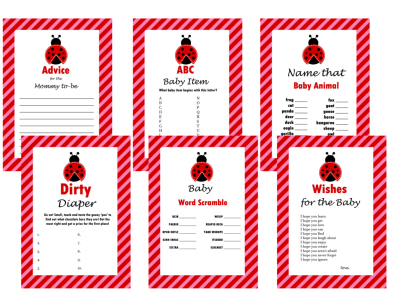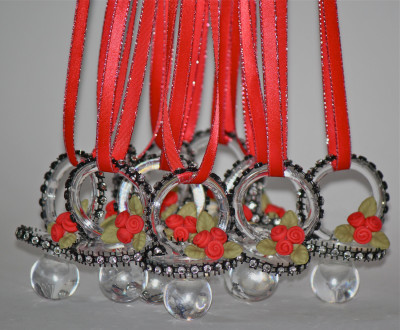 These Pacifier necklaces are great for baby shower games called "Don't say a word baby shower game"
Ladybug Themed Baby Shower Decorations
Ladybug Baby Shower Favors
Cute ladybug themed baby shower favors, that are DIY include filling baby bottles with red and black jelly beans, or place some red candles or ladybug shaped soaps inside cellophane bags and tie them with black ribbon. Another idea for a baby shower favor is buy ladybug favor bags or get red ones and draw black dots on them, filling the favor bags with little chocolates, flower seed packets and whatever else you can think of. Remember this is for a little bundle of joy that is on their way into this world, and this ladybug themed baby shower is an absolute wonderful and delightful way of bringing them in the right way and creating a precious memory for them to look back and see how much you love them.
 Ladybug Themed Baby Shower Favors
Ladybug Themed Baby Shower Game
Follow My Mess Baby Shower Ladybug Theme Inspirations on Pinterest