As best friend to mom-to-be, Sarah took the time to plan a fantastic DIY Rain Cloud Baby Shower, bringing innovation and excitement to a celebration that was sure to impress. As a DIY event, each detail was from the heart, creating an event that truly expressed how much Mom, Dad and baby-to-be were loved.
The party venue was outdoors, and both guys and girls were invited, bringing a whole new element of fun to the celebration. Utilizing the log, wood wall of the building they had the event beside, an adorable banner was hung that had bold colors which stood out fantastically.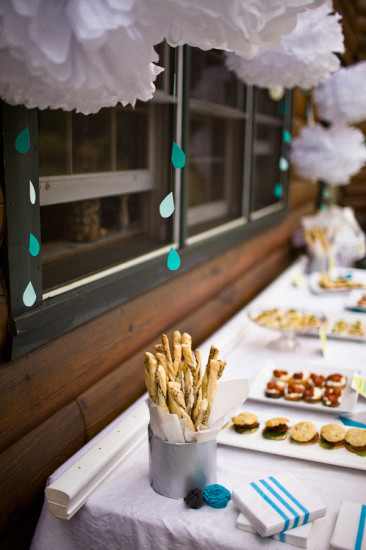 As a neat twist, this party had a dress code, everyone who came wore white! With a fun perk like that, everyone got to feel like a special part of the celebration, and it made for some professional looking photos.
The food table was a vision of elegance.  They used the wall of the building as a backdrop, and created adorable poms that hung in the windows, really creating a warm atmosphere.  The table was lined in white cloth, allowing the vibrant colors of the snacks to stand out. With a wide variety of finger-foods, each guest could easily pick up something that they would enjoy to munch.
The party favors were bundled in cute little bags that had cloud tags, embracing the theme perfectly, offering a way for everyone to remember this fun gathering.
For advice, there were individual sheets of paper that had raincloud artwork that each visitor could write their words of wisdom on.
The cupcakes were delightful, a mass of chocolate and frosting that had cute little clouds standing out of them. Each was wrapped with yellow, really creating a bright and happy look.
A phenomenal photo op was created with a vintage door backdrop and props like umbrellas so everyone could have enjoy the spotlight as well, giving this fun party a unique touch that was sure to be remembered.
Credits –
PHOTOGRAPHY: Daniel Aaron Sprague
EVENT DESIGN & PLANNING: Sarah Elan & friends
CATERER: Sarah Arel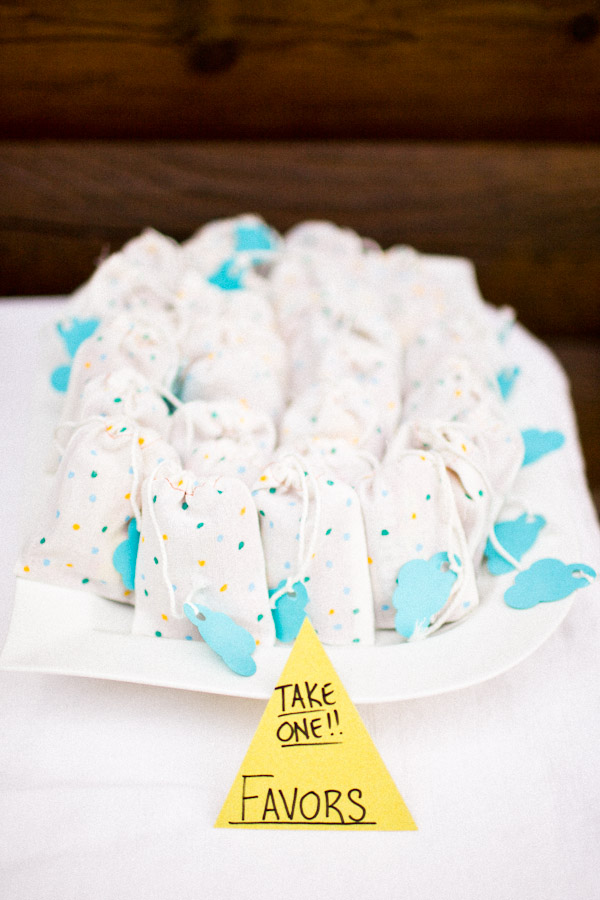 MORE INSPIRATIONS: