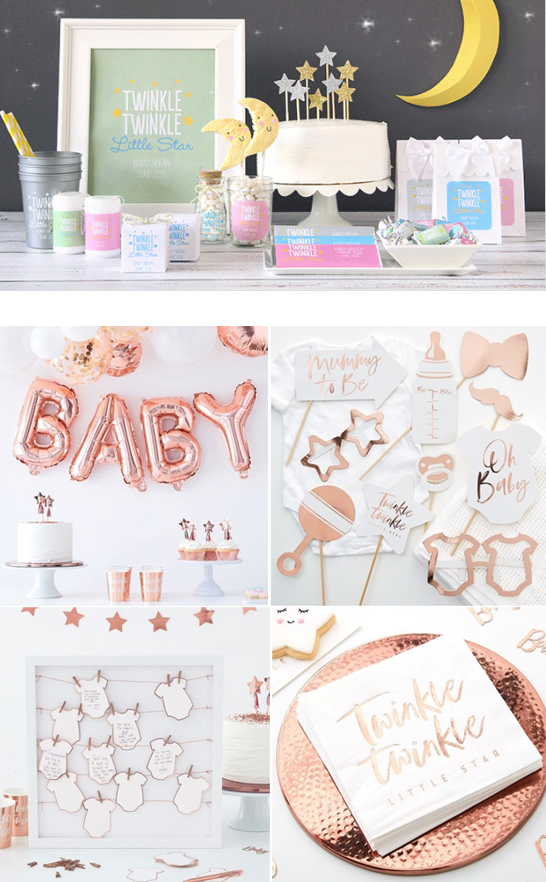 You want your guests to be over the moon about your baby shower, and there's no better way to do this (literally!) than a Twinkle Twinkle Little Star themed event. Use the theme for gender reveal or for baby boy or girl! This party motif is a relaxing and albeit magical one that is unique and full of gorgeous details. Your guests will feel as though they walked into a sweet nighttime lullaby when coming to your party and there is no sweeter way to welcome a new baby into the world than this.
Twinkle Twinkle Baby Shower Invites
Twinkle Twinkle Baby Shower Decors
When you think of the right kind of décor for a Twinkle Twinkle Little Stars baby shower, you want to just envision the night sky and all its serenity. Golden foil star and moon balloons, yellow stars of all shapes and sizes, and strings of glowing paper lanterns all offer that nighttime ambience when little ones are dreaming. Make clouds from cotton and hang from the ceiling, put up gold and silver tinsel in doorways, and have garlands upon garlands of gold and yellow stars strung along the party venue. Cut star and moon shaped holes in big paper ball lanterns and watch the illumination of these shapes on the walls, and stick glow in the dark stars, moons, and planets all along everything. Deep blue tablecloths with silver glittery star designs and centerpieces of white and yellow lilies are an exquisite touch. Don't forget candles placed around the tables as well, for these offer a sweet scent, but also an even further serene atmosphere. Complete the dreamy look with a big chalkboard backdrop welcoming the new baby with a "Twinkle Twinkle Little Star" message.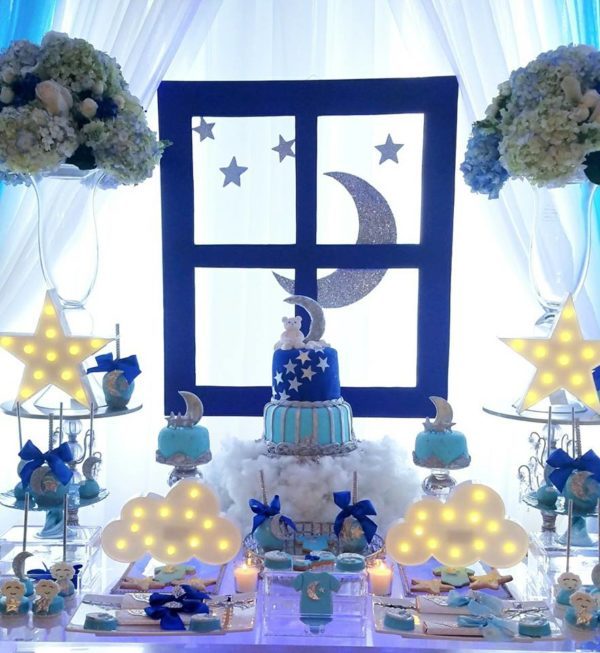 Twinkle Twinkle Baby Shower Food
Food should be just as melancholy as the feel of the shower, so think about all the yummy comfort food that your guests would really enjoy. A single-tiered cake with white frosting and lots of sugar fondant gold stars and a moon topper is just perfect, while cupcakes with dark icing and white constellation piping are truly magical. Bowls of chocolate candies, popcorn, and miniature sugar cookies in the shapes of little babies sleeping on the moon are extra special. Don't forget sugar plum candies and glasses of colorful cotton candy as well. Another great idea for the food is to set up a hot chocolate bar. Here, guests can make the ultimate hot chocolate from a variety of additions and toppings. Cheese plates with crackers and other salty fares is a great idea for guests to munch on, along with some other signature comfort food items such as macaroni and cheese bites or warm nut breads.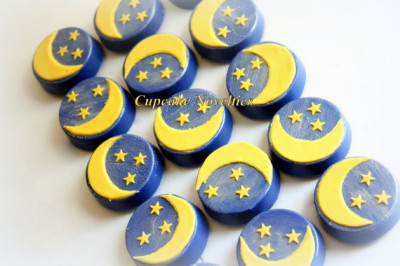 Twinkle Twinkle Baby Shower Games
Get your guests involved beyond just the food and decorations with some awesome activities, such as name the constellation, or get them creatively involved in paint by number with a night sky image.
Another perfect activity for this theme is by asking your guests to write their wishes for the baby. You can create a table just for this with a cute sign  framing 'Wish upon a star'. An appropriate game would be the Nursery Rhyme Quiz where the guests are asked to finish off the nursery rhyme that has missing words.
Twinkle Twinkle Baby Shower Favors
When deciding on favors, keep the theme in mind to tie in. Eye masks, lamp shade charms, bookmarks or just about any bedside sweet trinket you can think of is a wonderful favor for guests. Wrap everything up in a purple velvet keepsake bag with stitched gold stars and ribbon.
MORE INSPIRATIONS: