How adorable is this Bumblebee Gender Reveal Baby Shower? From the bold yellow colors to the softening grey tones, this party had a modern take on a fun, classic theme.  
The golden yellow color was a for sure a prominent theme tone at this venue, making it lively and exciting to see all of the decors. To mellow it out a little Kudzu Monster put in warm greys which contrasted beautifully to create a party with just the right amount of pizzazz. The range of printables offered at this event was fantastic, from the cute, "Which Will It Bee?" backdrop to the honeycomb snack labels on the dessert table.
Fantastic whimsical details were added to the stylings at this event including a wonderful stump style stand that held the pristinely detailed, massive celebratory cake. This cake was frosted in a delectable yellow and had a sweet little bumblebee topper.
A framed bit of art that said, "He or She Which Will it Bee?" hung on the wall with a fantastic aged grey frame, blending with the theme very smoothly. Plants were even artfully placed in various types of containers to add to the natural vibe in a fun way.
The range of treats was lovely with cupcakes frosted in yellow and placed in cute little bumblebee cups being a favorite to try. There were even some placed in honeycomb cups that were frosted in tall towers for delightful sweetness and topped with bumblebees. Classic Honeycomb cereal even made an appearance, advertising this theme in fantastic fashion. Each treat had a personalized label, making it simple to see what was offered and there were even bottled beverages with labels to match the theme too.
A finishing touch for the party guests were thank you cards that were designed to match the theme, offering heartfelt and stylish love for those who were able to attend.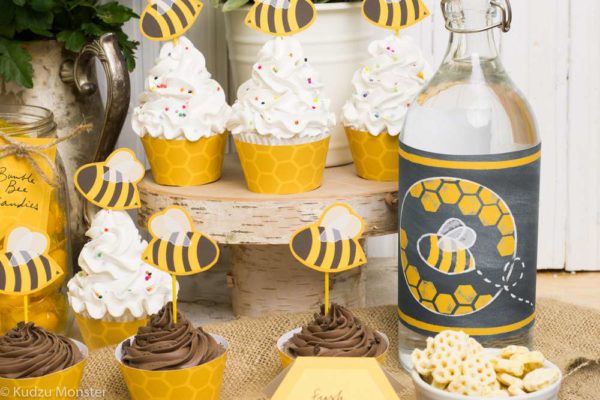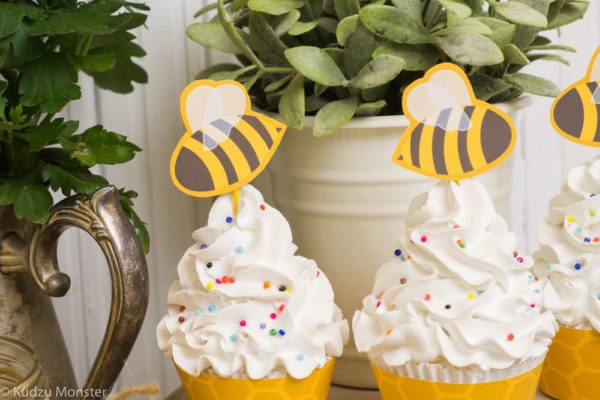 Credits:
Kudzu Monster – Etsy Shop – Printables for this Party
MORE INSPIRATIONS: