Honey Bee Baby Shower by Daniele of Casinha Da Manu
This baby shower is so beautiful and perfect for baby twins and also for gender neutral baby showers. The colors of the party are cream and various shades of yellow. The party plays host to many bumble bee characters. The characters are displayed on the printables, and under the banner displaying the baby's name. on a white park bench. Flowers are also displayed throughout. They are yellow in color and they are placed on the cake, and also within a green watering tin. There are two simple yet beautiful cakes to represent each of the babies! I love the soft yellow material used under the cake. It makes the cake look like a part of a flower.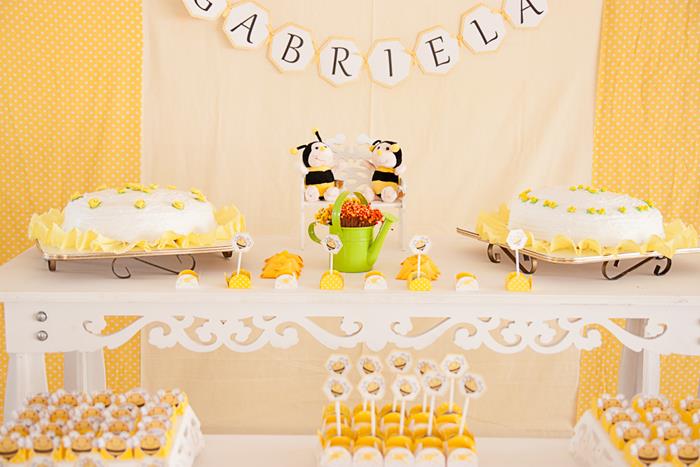 I love the napkin used to create a mini napkin diaper for the candies.  The napkin has honeycomb pattern. The napkins are folded to resemble a baby's diaper. Casinha Da Manu also uses the shape of the honeycomb to create a exquisite banner and the adorable food labels. The pom poms, white and yellow, hanging about the dessert table are also very cute. They go well with the light brown, and yellow backdrop.