Valentine's Day parties means sweet treats, flowers, and plenty of red and pink. Don't fret if you don't have a date, just get together with your friends and live a little.  Start with a themed table and arrange the refreshments in a spectacular way. Send out invitations, decorate with roses and balloons, and include plenty of mixed beverages.
Start with a buffet of goodies that is inspired by a mirror vanity table. Place a full-length mirror down the middle of the table and place clusters of roses along the mirror. Sugar cookies made in the shapes of L O V E are placed in the middle of the table. Each cookie letter is decorated with pink and white and include polka dots, variegated lines, and tiny bouquets of pink, red and white flowers.
L.O.V.E Cookies
A tray of glorious cupcakes decorated with pink icing (lots of it) and studded with silver balls comes next. Put these cupcakes on either side of the L O V E cookies. Add a platter of cookies shaped like hearts. With their dollop of red jelly in the center, these cookies are yummy.
Cookies with sugar sprinkles in Valentine colors are boxed in white and pink boxes and on a table near the entrance of the room. These cookies are the centerpiece of a table decorated by white and pink parasols. Add more L O V E cookies to the wall behind the parasol table and be delighted with the oohs and aahs.
Strawberry Macarons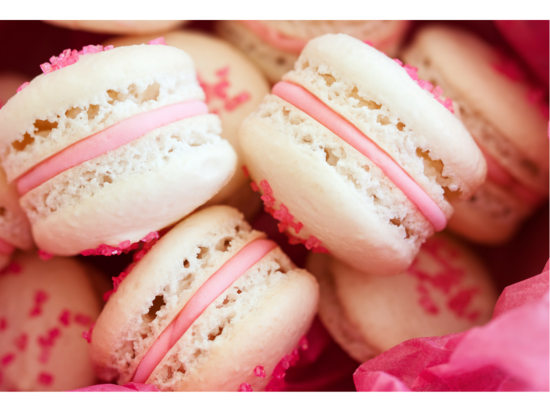 Strawberry macaroons are so today, and these little beauties feature pink icing and rosettes on the top. Keep plenty of macaroons on the buffet table and arrange them on a silver platter. Their sister fruit, raspberry macaroons can be placed on white trays and placed on the opposite end from the strawberry macaroons. The raspberry macaroons feature whole berries as the filling between light pink cookies with sprinkles. They are almost too pretty to eat!
Raspberry Macarons with dried raspberry pieces
Silk swirled roses in white vases with pink ribbon are the party favors. Everyone needs a flower bouquet on Valentine's Day. These bouquets are on the entry table and compliment the boxed sugar cookies with the Valentine sprinkles. Add sugar cookies decorated in patchwork with the world LOVE done in pink frosting. Tie these cookies with pink and white polka dotted ribbon and use as place cards.
Use crystal clear plates and goblets tied with pink ribbon. Add baskets filled with sugar cookies in L O V E cutouts along the buffet table. Finish off with pink lemonade poured in crystal goblets and rimmed with sugar. Add a splatter of rose petals along the table. Remember to keep most of the decorations eatable and let your guests take their Valentine's favors home to their sweethearts.
Heart Cookies with Sugar Sprinkles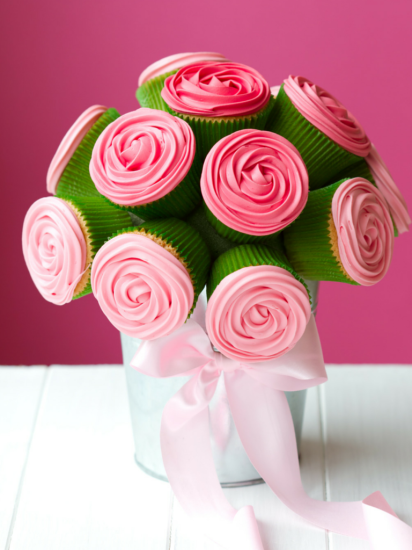 MORE INSPIRATIONS: