When it came to celebrating this mom-to-be, Martinez Decorations RD went all out with a lovely, Carousel In Pink Baby Shower. Using a blend of pinks and white, the venue for this party was pure elegance.
A dessert table was set up lavishly, decorated from top to bottom in fantastic decor. A soft, white carpet offered a royal welcome to the guests. A backdrop of sheer fabrics was hung in front of windows, creating soft lighting and a lovely look across the room.  The area behind the table was perfectly decorated with an intricate carousel design, introducing the theme very sweetly.
The table itself was wrapped in long pink strands of fabric, giving a textured look that was fun and playful.  A massive tiered cake was on display at the center of the table, detailed perfectly to match the theme and standing tall with an adorable carousel topper. To each side, lovely bouquets of flowers accented the cake with a range of fantastic pink blooms.
A special vip chair sat throne-like beside this dessert table with a golden frame. Adorable pink throw pillows made a perfect accent.  
Other fun touches included a table set up a pretty framed photo of baby and little carousel music boxes. In front of this table, a golden frame made a nice addition to the decor too.
The guest seating blended beautifully with the dessert table, each table had a soft pink cover and a sweet mini-bouquet of flowers for their centerpiece. The tables were numbered as well in golden frames that gave a touch of sophistication.  Each place setting had a golden charger that was wrapped in a pink napkin, designed to look like a bow! The chairs were even decorated to go with the party theme, all wrapped with a lovely piece of pink fabric.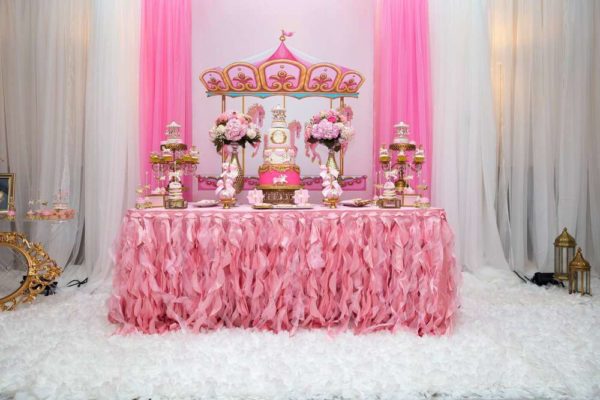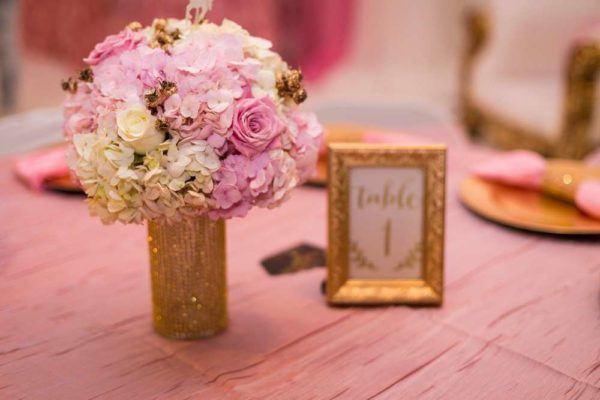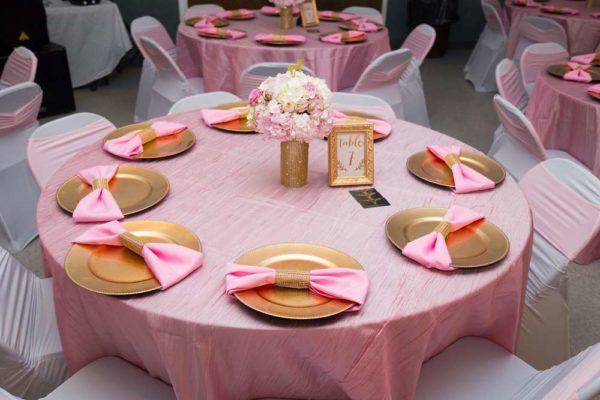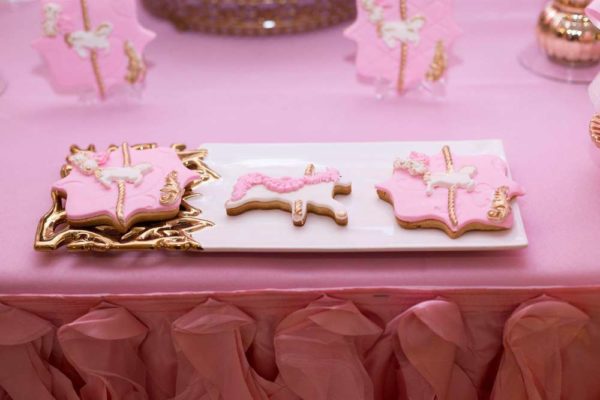 MORE INSPIRATIONS: