There are so many possibilities for a ballerina themed baby shower! The palette of pale pinks and whites are the perfect colors to celebrate the arrival of a baby girl. If you take a look on Etsy, you will find a plethora of ballerina themed decorations and party favors for baby showers. Due to the large selection, it might be difficult to choose the best options for your party. Included below are a few Etsy items that are sure to make your ballerina themed baby shower the best baby shower in town.
Decorative Water Bottle Labels
It is likely that you will serve water or other beverages of choice at your baby shower, so why not serve your beverages in style? These labels can be personalized to fit your needs and will fit almost any type of bottle. This image also includes adorable paper straws which can be purchased separately if desired. The picture shows the labels being used on mason jars which would be cute if you are serving pink lemonade, however, if mason jars are not your style, the labels will also fit a standard plastic water bottle. The label can be personalized to fit your celebration!
 Tutu Baby Bottle Favors
Every baby shower needs some favors! These tutu baby bottles will make the perfect favors for your guests to bring home! You get to choose your color of tutu to match your other shower decor. You can even choose the option to add a touch of glitter. The bottles come with a pink lid and coordinating ribbon. You can fill the bottles with delicious candy or another filling of your choice.
 Pink Elephant Baby Shower Centerpiece
Of course, you will likely serve some food at your baby shower and if you choose to serve food, you might need to set a few tables where your guests can eat. You can theme your tables with these adorable centerpieces! The decorations can be placed in just about anything and will make your tables appear picture perfect! You could even use a clear vase filled with matching candy to add an extra pop of pink! The centerpiece can be customized to include the name of the baby that is being celebrated.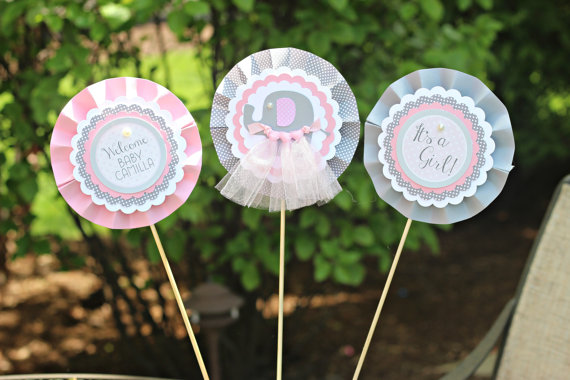 Ballerina Baby Shower Napkin Holders
Napkins are a necessity for any party in which you are serving food. These napkin holders will add some style to your plain white napkins. The napkin holders are sold in sets of twelve and are printed on high quality cardstock. In addition these napkin holders are simple to set up. You just wrap the napkin holders around the napkins of your choice and then secure the holders with a small piece of tape.