A "Cute as a Button" themed baby shower is a great idea for a bunch of reasons. It's an adorable way to celebrate an upcoming little bundle of joy, and the options for décor, food, and fun is absolutely limitless. The theme is so versatile that it's suitable for baby boy or girl or simply a gender neutral baby shower. Buttons come in all shapes, sizes, and colors, so you can really let your creativity shine! Get those button-embellished invitations ready to put in the mail because you have the cutest party to plan!
Cute as a Button Invitations
FREE Cute as a Button Fill in Invite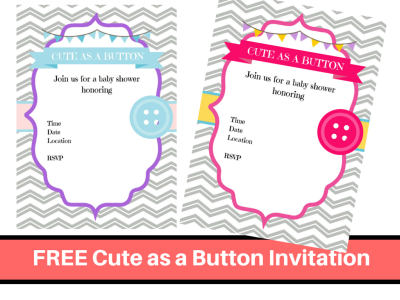 Cute as a Button Decorations
You cannot have too many buttons weaved into your decorations for a "Cute as a Button" baby shower, so don't be afraid to really go all out with these little buggers! Garlands of metallic buttons, hanging door strands of rainbow-colored buttons, and party signs that spell out welcome words to the little upcoming "Sew Cute" baby in buttons are all great party staples to have.
Big balloons with buttons carefully glued on to them, and clear jars filled with buttons to house sweet floral centerpieces are also perfect for the theme. Line tablecloth edges with all sizes of buttons and even pick up matching button eating ware sets for the guests! Create tumbler cups that guests can take home with them with plenty of button designs and have apothecary jars of colorful cookie buttons on the main table. Pastel ribbons and bows are also a great compliment for decorations.
Button Table Runner
Transform your plain white tables into adorable button themed tables! The table runner includes various sizes of paper buttons in a wide variety of colors and patterns. The entire table runner is made from fifty paper buttons and is about four feet long. The buttons are made from sturdy scrapbook paper. You can personalize the color scheme as well as the size. This table runner can be customized to fit perfectly with the rest of your button themed party!
Button Chalkboard Party Labels
Make decorating easy with these elegant labels. These labels are non-toxic and adhesive, so you're able to place them on just about anything. The image shows the label placed on a recycled Starbucks bottle, however, you could place these stickers on any bottle of your choice. You could even place the stickers on tables or walls. The stickers are sold in sets of twenty-four and are approximately six inches tall. You can add any message of your choice by using chalk. If you're planning to use the labels for beverages, waterproof marker pens are recommended.
Button Banner
This button baby shower themed banner comes in the perfect colors for a button themed baby shower. It's as cute as a button! You could use this banner to decorate above a treat table, outside on a fence as shown, or just hang it up on a wall to add an extra splash of color to any room! Each button measures approximately four inches. There are sixteen total buttons on the banner. The buttons are tied together with twine that makes for easy hanging. You can even order matching table confetti and cupcake toppers!
Cute as a Button Food Ideas
As for food, keep it going with tons of buttons! Bring in an elaborate event cake in the shape of a giant button with a cute baby topper, or a multi-tiered cake with button accents and the new baby's name across the front. Sugar cookies in the shape of buttons correspond brilliantly with likewise imaged cakepops and macaroons. Have food labels adorned with buttons and if you can, get your hands on some sweet candies that mimic buttons in all shapes and sizes. Be sure to have little "Cute as a Button" signs placed all over the food table, or even written in frosting.
Cute as a Button Games & Activities
Games for this type of theme can include classics like What's on your phone or What's in the diaper bag game, or a more themed games such as a button toss or guessing game. For the guessing game, have a big jar filled with buttons and ask guests to make a guess at how many buttons are in the jar to win a prize. 

Cute as a Button Photo Booth Props
Cute as a Button Favors
As for favors in general, crafts are a great idea, so opt for things like photo frames made from buttons, or specialty gourmet treats bagged up and tied with a silky bow. You can even give your guests little round scented candles, or button-shaped soap with a personalized label. 
Pastel Colored Button Shaped Soaps
These pastel colored button shaped soaps really are as cute a as a button! Your guests will love the decorative packaging and usability of this party favor! While the pastel colors are perfect for a baby shower, the soaps can be customized in the colors of your choice. The soaps are sold in sets of twenty-five with two soaps in every bag. The soaps are adorably prepackaged and come with a small tag that can be customized especially for your shower. In addition, you can customize the scents of the soaps!