This adorable, "Sew Cute" sewing themed baby shower was created by Events in the City. With a combination of precise detailing and fun style, the  party was one that any Mom-to-be could enjoy.
The invitations were phenomenal, they were a bright blend of purple, white, green, blue and yellow. With a lovely, personalized approach, these invites were sure to draw in the crowd.
The event area started off right, with a welcome sign displayed at the building's entrance that said "Sew Cute" in a mock – cross-stitch method of yarn through pegboard, helping to establish the theme in a unique and inviting way.
One beautiful set-up was Baby's name on display on a mantle in bold purple fabric wrapped around each letter. Hung right in front were adorable little dresses on wooden hangers, giving the room a warm and cozy effect.
The beverages were all very personalized, the water bottles all had individual labels and the little glasses were adorned with straws that had cute little buttons of all kinds of colors on them.
The back drop at the food table was stunning to say in the least. Fantastically large, accordion flowers in a variety of lovely pastels really stole the show in the decoration arena. There were all kinds of yummy snacks set out buffet style, filling the table and inviting guests to fill their tummies.
On very unique touch that Events in the City designed, was a little cloths pin that held a note with a fun rhyme asking guests to leave their address so Mom-to-be could mail them a thank-you card for attending. This idea makes it so much easier for Moms to keep track of everyone who is able to attend, especially at bigger events.
With all kinds of other sewing decorations like thread and needle projects, this party embraced the theme impeccably, creating a once-in-a-lifetime event.
Credits –
Styling and Design: Events In The City
Venue: Finch Sewing Studio
Photography: Sweet Root Village
Invitations and Signage: Scratch Paper Designs
Food: Wegmans
Platters and Food Stands: Target
Food Mats and Pickle Jars: Ikea
Large purple clothespins, supplies for yarn wrapped letters, mini spools for drink stirrers: Jo-Ann Fabric and Craft Stores
Supplies for mini sewing kit favors: Michael
Peg Board: Home Depot
Geronimo Balloons and Eatingware: Shop Sweet Lulu
Champagne Glasses: DC Rental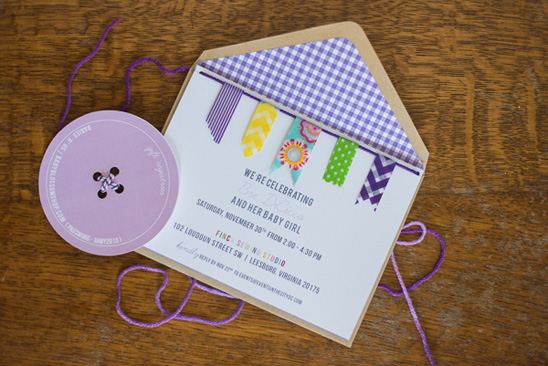 MORE INSPIRATIONS: