This Daddy's Little Caddy themed baby shower is one that any golf fan can be impressed with.  With a unique theme and fantastic design laid-out, this shower was sure to be quite memorable.
Using dark blue, spring green and white colors, the venue was a picture of sophistication. Every item was placed with precision and detail that reflected throughout the event perfectly.
The buffet table was a vision with a backdrop featuring a logo designed by Jamie Evelyn Photo. The table was covered with blue, matching the backdrop quite nicely and all of the food spread out stood out spectacularly. The entire table was filled with delicious treats that went with the Daddy's Little Caddy theme fantastically.
There were cake pops covered in green and topped with flags and little putting holes, creating a mini golf course.  The Chocolate Rose Cake Shoppe was responsible for those little visions of delight as well as many other little treats offered.
Cupcakes were set on a green, tiered tray with green frosting and mini-golf balls, they were labeled "Hole in One Cupcakes" as an adorable touch. Each was placed in a blue wrap with fun patterns for guests to enjoy. There were even sugar cookies frosted in white, some with the logo printed on them and some with holes poked in them to mimic a golf ball effect.
The cake was divine, three layers of perfect detailing that stood on a tall cake stand for a dramatic look. The top layer was shaped into a golf ball, really emphasizing the theme with flair.
The guest tables were fantastic in their simplicity. Covered in a blue cloth to match the buffet, each one had a neat centerpiece that stood out dramatically. A golf ball pot was in the middle with a flag placed inside for a course creation.  With a large letter B and some tee's laid out making a lovely accent piece.
Credits –
Cupcakes, Oreos, Cake Pops, and Cookies- The Chocolate Rose Cake Shoppe
Cake – Yani Cakes
Photographer – Elyse Pono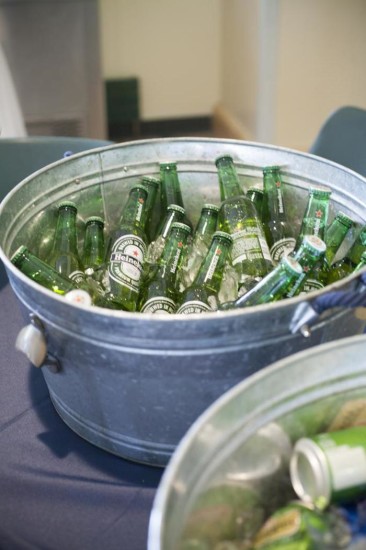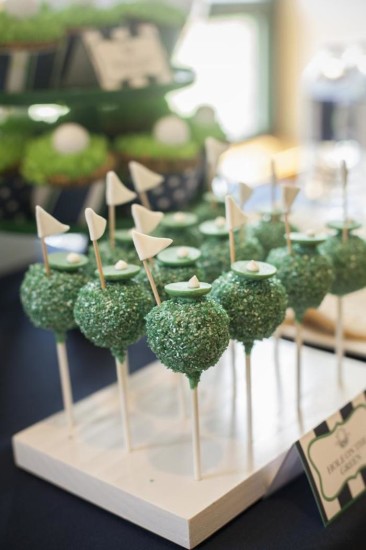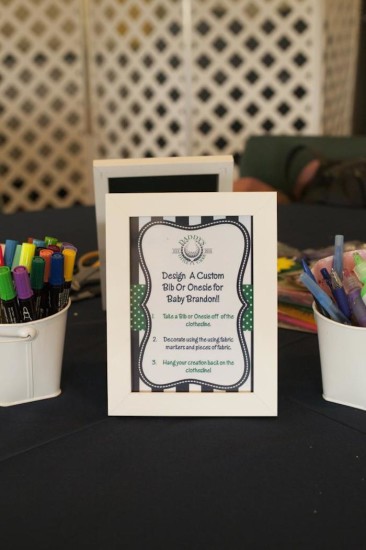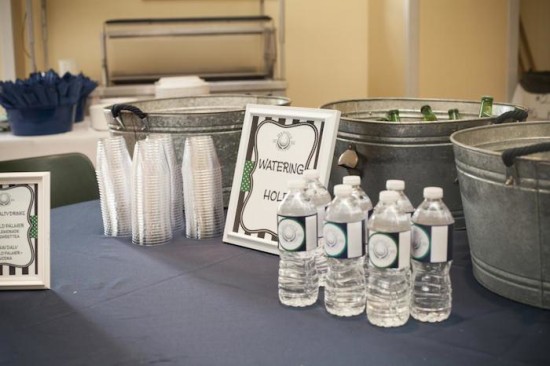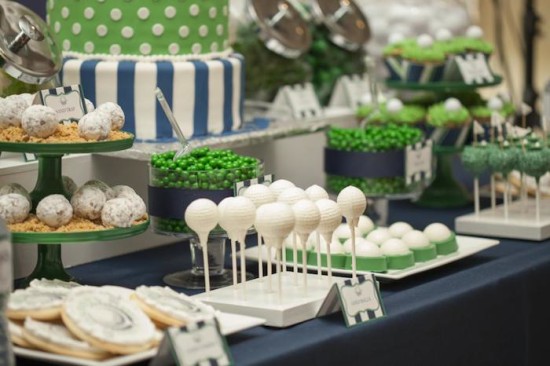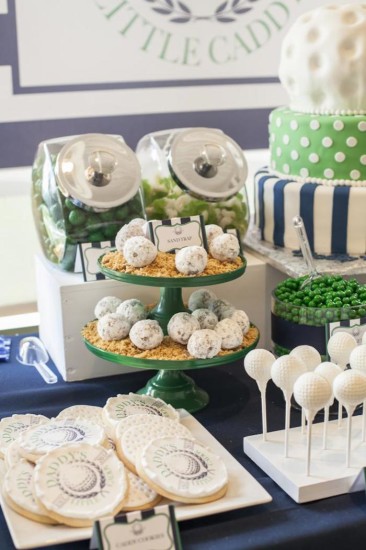 MORE INSPIRATIONS: