A new baby is a bright ray of sunshine in the lives of their parents and family. And this sunflower baby shower took that sentiment to heart! Event Planner, Aaliya of Lacedbyliyah (FB), let her style shine bright and transformed the venue with plenty of beautiful blooms.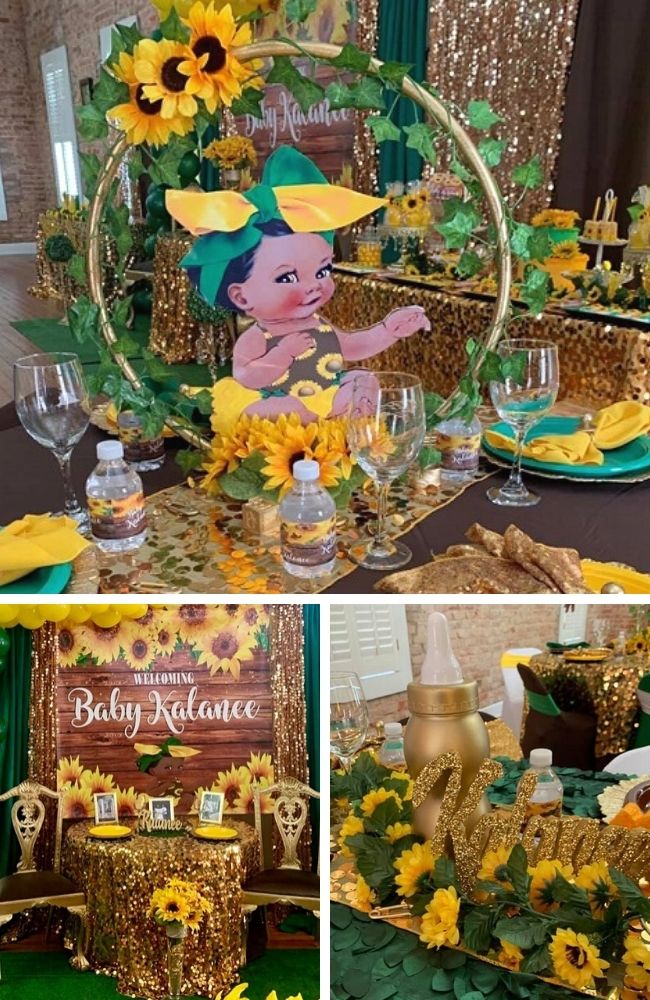 The invitations set the baby shower tone right from the get-go: dazzling sunflowers complemented by rustic wood for a sweet, country-chic vibe. The welcoming sign uses the same graphic, and Aaliya manages to match the venue's wood floors almost perfectly! Coincidence? I think not!
The guests of honor, Baby Kalanee's parents, get to enjoy seating fit for glamorous garden royalty. An eye-catching gold Payette sequined tablecloth covers their table, set with sunflower-yellow plates and sweet pictures of the growing family. The backdrop welcoming Baby Kalanee is framed with more Payette sequined curtains and deep green curtains that perfectly complement the custom backdrop. Balloon bunches add great dimension and are an excellent touch for the focal point of the room!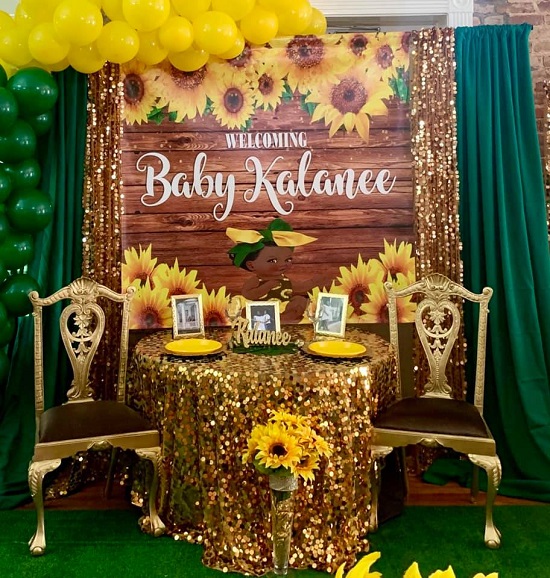 "Adorable" isn't a strong enough word to describe the table centerpieces! Embroidery hoops are repurposed and dressed up with vines of ivy, clusters of sunflowers, and the sweetest image of the Sunflower Princess herself. I absolutely love that the place settings are elevated with textured, metallic gold charger plates, too! Even though the guests are eating off of disposable plates, the settings look elegant and refined. And do you see the gold pacifier napkin rings? It doesn't get much cuter than that.
There's a beautiful variety of colors added to the room, as well. Some guest tables have green tablecloths, some have yellow or brown, but they are all tied together with Payette sequin table runners! Which, by the way, beautifully matches the sequined tablecloths on the food and dessert tables.
The details for this rustic sunflower baby shower are spot-on, and it's the perfect way to celebrate the arrival of a beautiful sunflower-summer baby girl!