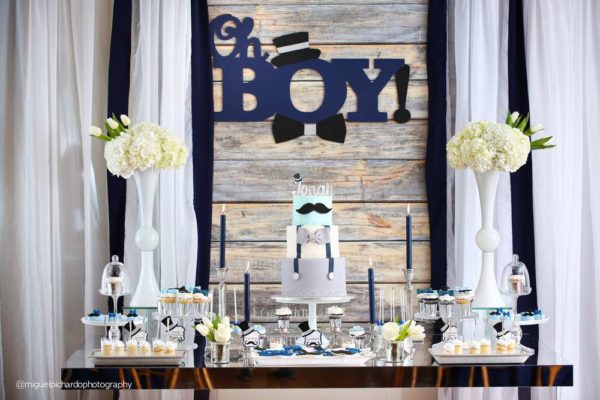 When it comes to creating a gorgeous and memorable event, ADAL Kreation's goes above and beyond! This Sophisticated Mustaches And Bows Baby Shower was a stunning success with modern details and bold colors that stood out beautifully.
A sign welcomed all of the guests on a chalkboard saying, "Gentlemen's Lounge," so everyone was sure to know right away that this happy couple was having a little boy.  A table set beside the sign was placed on top of a lovely white rug that gave an elegant look.  On top of that table a cute pair of bears, one in suspenders, sat together beside other adorable decorations like floating candles.
The guest seating was a perfect arrangement of round tables that allowed for easy conversation between visitors. Each table was covered in a deep blue cloth that added a bold look to the room.  The chairs were a fantastic wooden seating option with a white pad to keep guests comfortable as they ate.  Beautiful short flower arrangements made sweet centerpieces for the tables, while ensuring everyone could still see each other with ease. Sheer cloth was draped in cascades across the ceiling adding depth to the venue.
The dessert table was a vision of sophistication with a backdrop of blended cloth, sheer white and deep blue. A fun sign hung in the center saying, "Oh Boy!" The table was a shiny silver, so rather than covering it up, all of the goodies were placed right on top of the fantastic reflective surface.
Tall bouquets of white flowers stood in modern-chic vases on each side of the table.  Blue candles made perfect fillers, while providing soft lighting.  Dessert offered included sweet cupcakes, sugar cookies frosted as fun shapes like mustaches and bows.  The cake was a superb centerpiece to this decor with three layers dressed up with suspenders, a bowtie, mustache, and miniature top hat!
Credits –
More Inspirations: