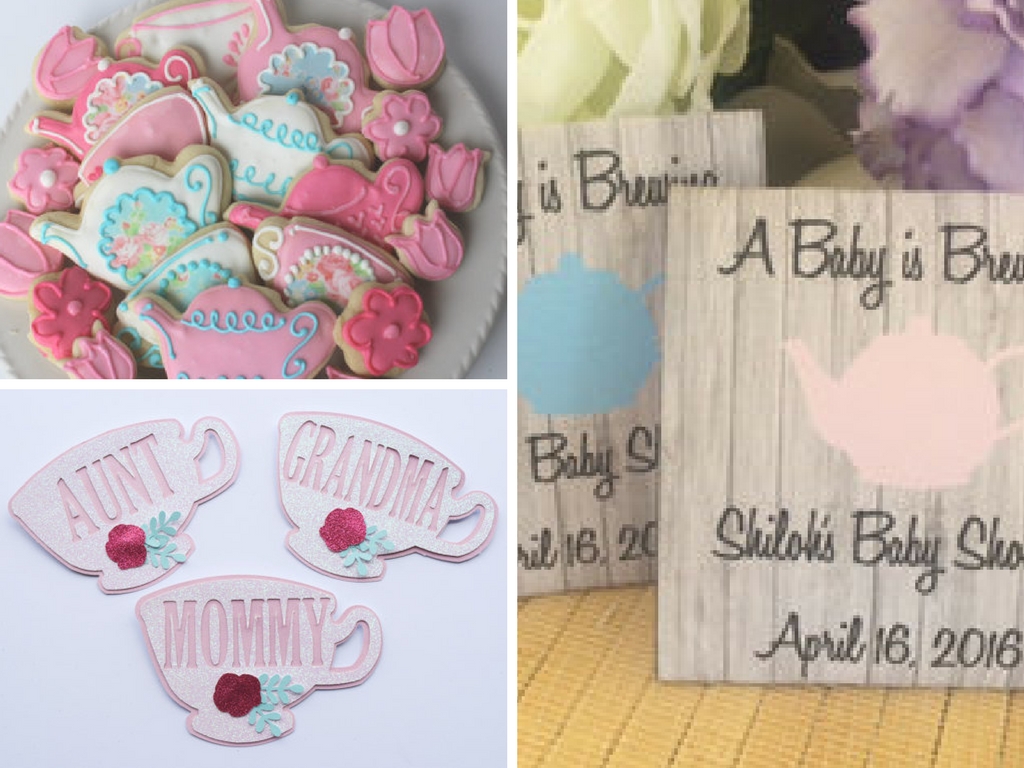 If you love adding intricate decorations to your parties, a tea party themed baby shower will be the perfect theme to wow your guests! Just imagine how fancy you and your guests will feel drinking from tea cups! A tea party themed baby shower could be used for a baby girl or boy. While typical colors of a tea party baby shower include soft pinks and greens, the colors could be changed to pale blues to a welcome a baby boy. You better starting brewing some tea to help you stay alert because there's a baby shower to plan! Below are a few ideas to get you started!
Tea Party Sugar Cookies
Wow your guests with these detailed tea party sugar cookies! These cookies will look beautiful displayed on a table or could be wrapped individually to send home as a party favor. The cookies measure approximately one to three inches in length and are baked fresh to order. The cookies include six teapots, six teacups, and twelve mini flower cookies. If desired, the cookies can be wrapped individually to save you time.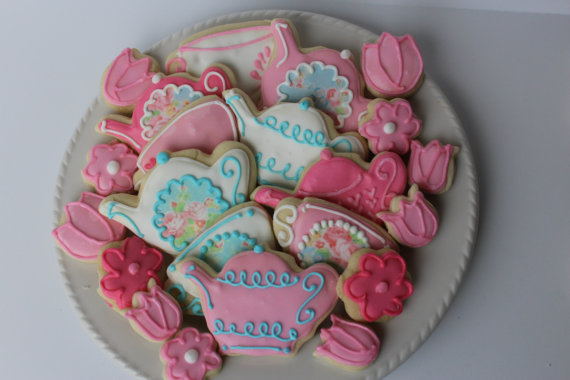 Tea Party Paper Cups
So, you want your tea party baby shower to look fancy, but you don't want to break out the fine china? These paper tea party cups provide the perfect answer to stick with your tea party theme. The cups feature  small sacuers and fold out handles to resemble real tea cups. Thankfully there's no need to spend your time doing dishes because these cups are disposable. You will have more time to enjoy the celebration! The elegant floral design even adds a vintage feel. The cups are sold in sets of twelve and require little assembly. 
Tea Packet Party Favors
If you're having a tea party themed baby shower, there is no better party favor to send home with your guests than tea! These adorable tea packets come a wide variety of colors, so they can be used for the celebration of a baby girl or boy. The front of the tea packet reads, "a baby is brewing," and features the name of the baby being celebrated. In addition, the date of the baby shower and the name of the mother-to-be can both be added. The back of each flap will read, "enjoy a cup of tea with the mom to be." The favors arrive ready to to give to your guests. Each packet includes one bag of Lipton tea.
Tea Party Baby Shower Buttons
Point out all of the special guests at the party with these adorable tea party buttons. The buttons are created from heavy duty glittered card stock and are aodorned with a small saftey pin on the back. You have the option to choose the number of buttons that you want and customize each button with the name of an honored guest. You can even request a custom order with the perfect color combination for your party.