If you love the feeling of your skates touching the ice and you just can't wait until your new baby will try on their first pair of skates, a hockey themed baby shower might be the perfect theme for your party! A hockey themed baby shower allows for a variety of color options. You might opt for the colors of your favorite team or simply customize the colors to match your style. It is time to lace up your skates because there is a baby shower to plan. Below are a few ideas to get you started. 
Hockey Welcome Banner
Welcome your guests with this beautiful banner! The banner includes themed pennants and lettered pennants that are perfectly personalized for your party. The banner is quick and easy to assemble. There is plenty of string on each side of the banner to make for easy hanging. There is enough room for your banner to fit up to twenty-three characters of personalization. The banner can be ordered with coordinating decorations such as water bottle labels and napkins.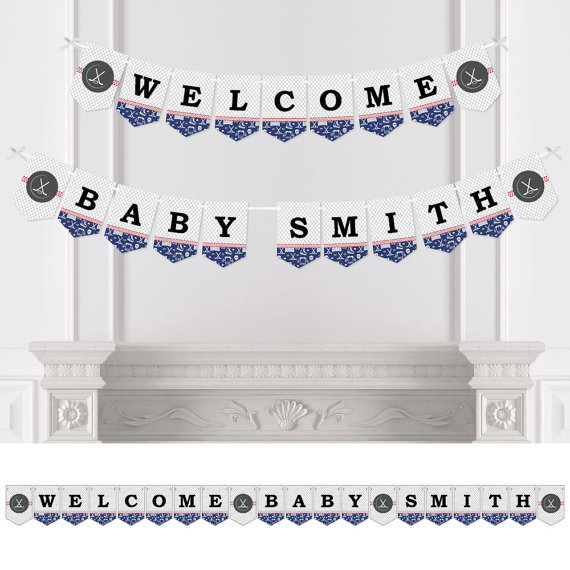 Hockey Fondant Cake Topper
Wow your guests with this amazing fondant cake topper! The cake topper is made from high quality ingredients and is edible. The baby featured on the top of the topper is sleeping on a hockey stick which measures approximately seven inches long. The sweet baby on top of the hockey topper also measures approximately 2.5 inches long. If desired, you can choose to order a coordinating hockey puck topper that is personalized with the name of the baby being celebrated. You also have the option to add "Welcome Baby" to the hockey stick.
Hockey Ornament Favors
Since hockey typically takes place in the winter, your hockey themed baby shower might fall around the holiday season. Give your guests a gift that they will cherish every year! These wooden hockey tree ornaments are carefully hand-painted and can include the name of the baby being celebrated. Each ornament measures approximately four inches tall by four inches wide. Each ornament starts from a plain piece of wood that is cut, painted, and personalized from scratch. Custom colors can be ordered upon request, so it is easy to match the colors to your favorite hockey team.
Hockey Cupcake Topper
If you prefer to treat your guests with individual cupcakes rather than a cake, these cupcake toppers will ensure that your cupcakes fit the theme. The toppers are sold in sets of twenty-four and measure approximately 1.5 inches in diameter. Each topper is made from high quality plastic and can also be used as a ring, which will be loved by the children attending the party. Each puck features two crossed hockey sticks and the words "Official Hockey Puck."