With a desire for decadence, this Whimsical Vintage baby shower oozed elegance and beauty. Cate Wnek of Full Circle Works designed, styled and even photographed the event and her work was just fantastic.
In an effort to truly spoil this mom-to-be, the event was thrown in her home, making it super easy to make her comfy. A neat arrangement of whimsical vintage decor was distributed through the party area to give that charming vibe.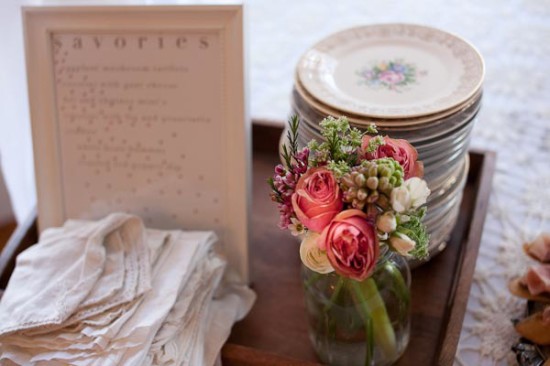 The flowers used to decorate the area were just lovely with a selection chosen from the Boston Flower Market. Bouquets of ranunculus, David Austin roses, Kabuki roses, spray roses, hyacinth and wax flowers were arranged sweetly in antique mason jars.
A cute drink bar was set-up that included something for everyone to enjoy. Wine, honey rose lemonade and even lavender iced tea was available, adding to the eclectic arrangement of the event. The beverages were served in wonderful, antique mason jars that each had a fun paper swirl straw adorned with raspberries and mint.
A caterer was taken advantage of for this party, truly spoiling the guests with outstanding service. Valery Scott of Basil Catering handled that part of the party perfectly, making sure that two of mom-to-be's favorites options were available to munch on, raspberries and pistachios.  The rustic-chic food complemented the vintage charm of this party perfectly.
The different foods made for the event included sweet and savory panini's that were topped with yummy roasted grapes, figs or raspberries. French macarons brought a sweet touch to the table as well as delicious mini-cupcakes. A palette cleanser was also made available in the form of gelato fiasco, giving everyone a chance to really enjoy every bite of their various dishes.
A sweet option was set up for each of the guests to decorate and sign a wonderful baby book to give to mom-to-be, offering a gift that can last a lifetime.
Credits –
Design, Styling & Photography: Cate Wnek of Full Circle Works
Catering: Valery Scott of Basil Catering
Vintage Rentals: Jillian McDonough of New England Vintage
Macarons: Fromaggio Kitchen
Cupcakes: Sweet
Sorbet: The Gelato Fiasco
MORE INSPIRATIONS: