Tempo di Festa never fails to wow us with their unique and exciting event planning and this Shabby Chic Baby Shower is no exception. The fantastic blend of colors and vintage decor created an atmosphere that was warm and inviting, ensuring that the guests would be comfortable.
The buffet food table was a vision with just the right mix of decorations and tasty treats to try out. One unique touch in the design of this table was the use of a large, vintage suitcase that added layering to the look while boldly advertising the sweet theme.  The suitcase held a neat mix of items including a lovely doily that really enhanced the look. An old-school rotary phone was placed on the doily and behind it a huge jar was used to hold a beautiful arrangement of pastel flowers. To fill the rest of the suitcase space jars of delicious looking snacks were laid at an angle to add dimension and interest to the set-up.
The table was covered with a white cloth, setting a smooth stage for the vibrant array of colorful food to stand out on. There was definitely a sweet to cover every craving with a mix of donuts all the way to decadent strawberries. Adorable cupcakes had soft pastel colored frosting and was decorated with personalized tags.  Cake pops were covered with a soft green colored frosting and each had an adorable edible flower placed on them for a neat effect. Macarons had matching flowers to add to the prettiness of the look. Another neat touch were the classic teacups and biscuit cookies that were spread beautifully on the table. They had detailing that was immaculate. Cupcake towers even held a delicious spread of finger sandwiches that were cut into adorable triangle shapes.
Credits –
Party Stylist e stampabile: Tempo di Festa
Pasticceria: Michela Cake Designer
Macarons: Soave Pasticceria
Biscotti: Rayito's Cookies
Fotografia: Regina Rangel Fotografa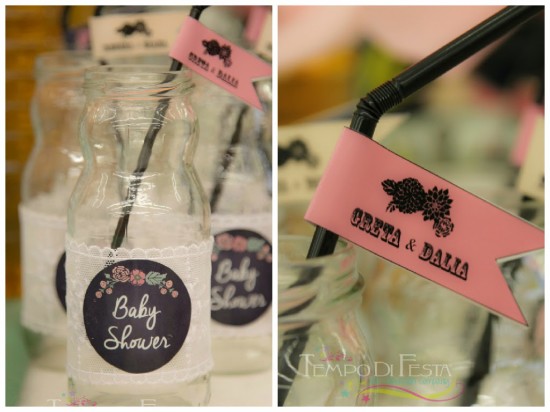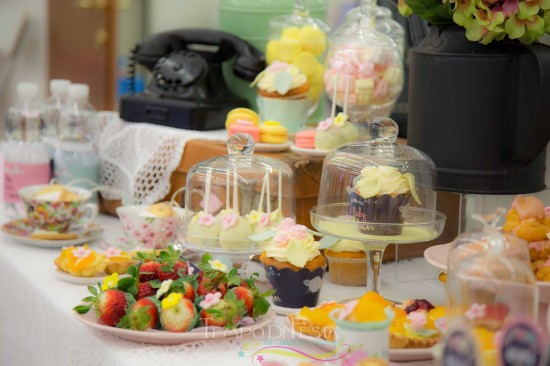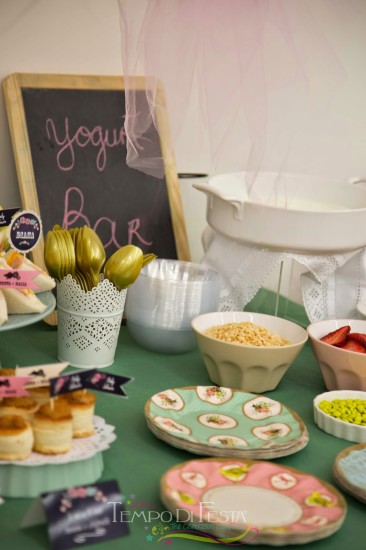 MORE INSPIRATIONS: