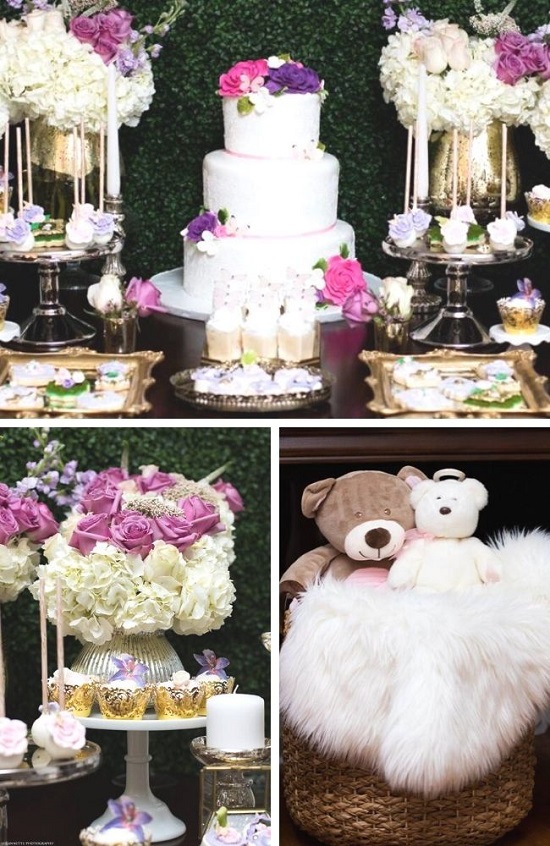 This Chic Floral Garden Baby Shower was created by the fantastic ADAL Kreation. Using an indoor venue it can be incredibly difficult to create an outdoor garden vibe, but ADAL Kreation did it splendidly. A major element of this set-up was the shrubbery backdrop that stood behind the dessert table. It was massive and a lovely, deep green color that transported you into a world of imagination with just a glance.  To introduce the theme with perfection, the baby-to-be's name was spelled out in large golden letters right in the center. The letters were elegantly fashioned and accented with gorgeous blooms in purple and pink.
A large, mahogany toned wooden table was used to hold the treats, adding to the chic look of this venue. No cover was needed as this table made a lovely stage all by itself.
An abundance of radiant flower arrangements filled the space at the back of the table beautifully.  With light blooms surrounding deep pink and purple ones, they stood out gorgeously. The vases were stunning too. Candles added a touch of soft ambiance to the decor as well, some tall and skinny ones as well as tiered towers of the larger ones on each side of the table.
The treats were pure decadence, each variety decorated with precision to match the chic garden theme perfectly. Cakepops had tasty looking blooms in pink and purple with golden butterflies appearing to flit right on the flowers. Wooden sticks were even used for each one. Cupcakes were placed in golden holders that had lovely detailing. They were topped with adorable flowers as well.  The cake was a vision all by itself.  With three layers frosted in white and textured, it had a simple and elegant presence that was almost too good to eat up. It was accented with large edible blooms on the top and sides too.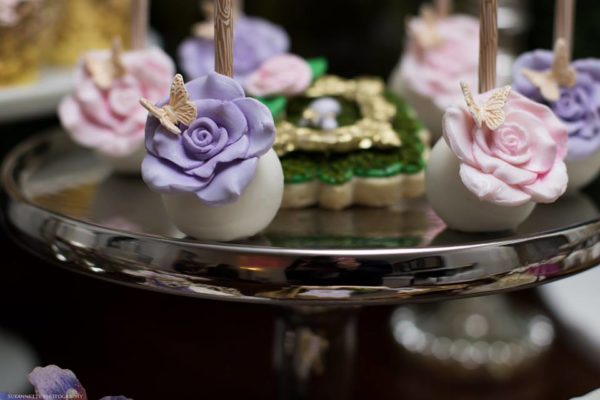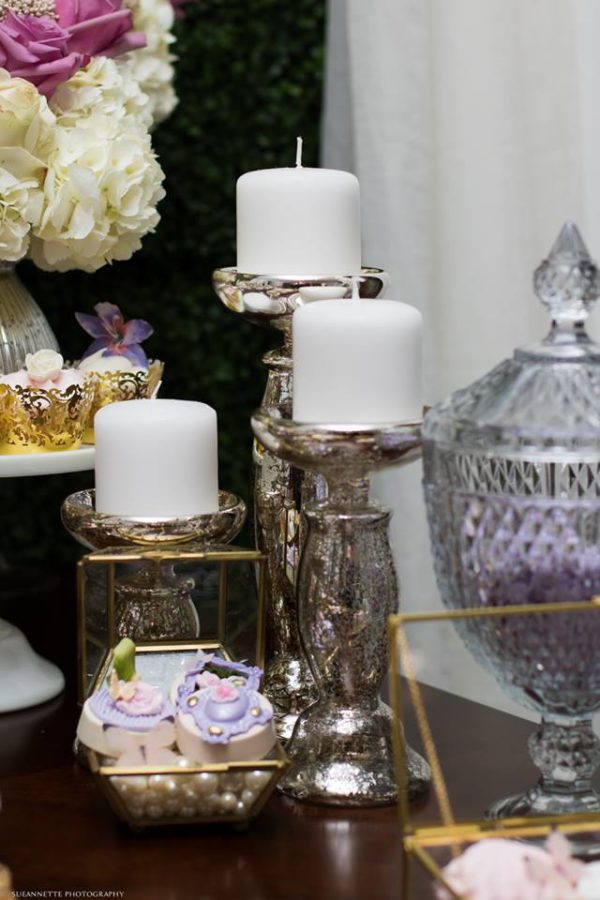 MORE INSPIRATIONS: