With Fabiane in charge, this Sophisticated Swan Lake Baby Shower turned into a phenomenal way to celebrate a special mom. With a bright, large room for the venue, all the white and black decor of this fabulous theme stood out beautifully.
A backdrop of white striped fabric gave a lovely effect for the hanging ballerinas in front of it. A large white table made a perfect buffet area for the guests to grab their desserts from.
Every dessert had an elegant and pristine detailing to it that introduce the theme with tasty delight. Some unique bits of decor added to the table that made it absolutely superb included fantastic mini white chairs, set at the front and center of the table, each one holding a delightful little treat. Cakepops frosted in white had tiny little black bows as a finishing touch. Sugar cookies were detailed with ballet dresses and swans in frosting.  Decadent miniature chocolate cupcakes had little macarons for a topper, creating a fantastic dessert to enjoy.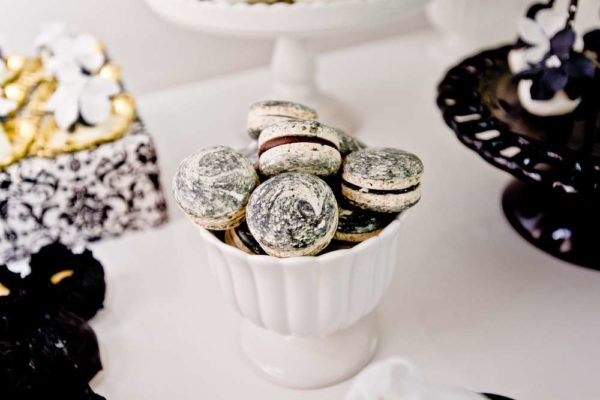 At the back of the table, elegant bouquets of white blooms made a wonderful floral addition to the decor. Stands wrapped in black and white ornately detailed packaging gave a graceful look to to the table while providing a sturdy place to hold treats.
The cake was a stunning introduction to the Swan Lake theme at this party with a tiered construction that drew the eye with ease. One layer frosted in black and one in white created a sophisticated look.  A large white flower made a beautiful finishing touch at the top of the cake.
Adorable little white and black bags were placed in a pile containing little thank you gifts for the guests. Each was tied with a lovely black and sheer ribbon making an exquisite little present for the guests to enjoy.